Abstract
There have been significant developments in the design of nanostructured scaffolds for eliciting robust immune responses named vaccine. The technique is to produce strong immune responses is to manipulate the appearance of a pathogen. Subsequently pathogens such as viruses and bacteria often demonstrate of multiple copies of ligands on their surfaces, the immune system is predominantly sensitive towards multivalent presentations of antigens. Consequently, when designing a vaccine, it is beneficial to garnish a nanostructured surface with multiple copies of an antigen so it can effectively act as an immune booster. Different methods are there for the development of the vaccine, from them most of the techniques are well developed and reported and some of in the developing state. This review focuses primarily on cellular and non-cellular vaccines, the whole cells or cellular proteins either as the source of antigens or the platform in which to deliver the antigens. Purpose of this review, understand and discussion on the various vaccine platforms which will contribute noteworthy information to vaccine research and development (R and D).
Keywords
Vaccine, platform, immune response, vaccination, development
Introduction
The native bacterial microflora inhabits the gastrointestinal tract (GIT) from birth and persists there throughout life. Roughly more than thousands of microbes are existing in the small and large intestine and they are obviously immunogenic [1, 2]. The indication is strong that the massive majority of immunoglobulin (Ig) A plasma cells in normal human GIT are replying to the antigens of the flora, and while the flora is also accountable for fabricating the maximum amount of T cells which are existing in the GIT of in fine fettle people, the types of T cell reaction which the flora provokes are less well agreed [3]. General mechanism of immunity busting via, an antigen prompted stimulation of antigen-presenting cells (APCs); a link of innate and adaptive immune artilleries triggering T cell and B cell immunity by fundamental immunological pathways are characterized to show how vaccine prompted immune responses lead to the eradication of viral infection [4] (Figure 1). Whichever vaccines are presently approved for human use can be classified into two types virus oriented or protein-oriented vaccines. The virus-based vaccines can contain a live-attenuated virus or deactivated virus which is no longer infective [5]. Live-attenuated virus vaccines are characteristically produced by passaging in cell culture awaiting it loses its pathogenic characteristic and may produce merely a mild infection on injection. Protein-oriented vaccines can contain a protein purified from the virus or recombinant protein, or virus-infected cells, or virus-like particles (VLPs). VLPs comprise the mechanical viral proteins essential to form a virus particle, but lack the viral genome and non-structural proteins. Protein-oriented vaccines need the addition of an adjuvant to prompt a strong immune response [6]. Nowadays, the coronavirus disease-19 (COVID-19) vaccines oriented on these classical platforms are in clinical trials as well as available in the market, some based on the whole-inactivated virus and some are based on the recombinant protein [1]. These classical vaccine platforms have subsidized to most important public health breakthroughs [7, 8].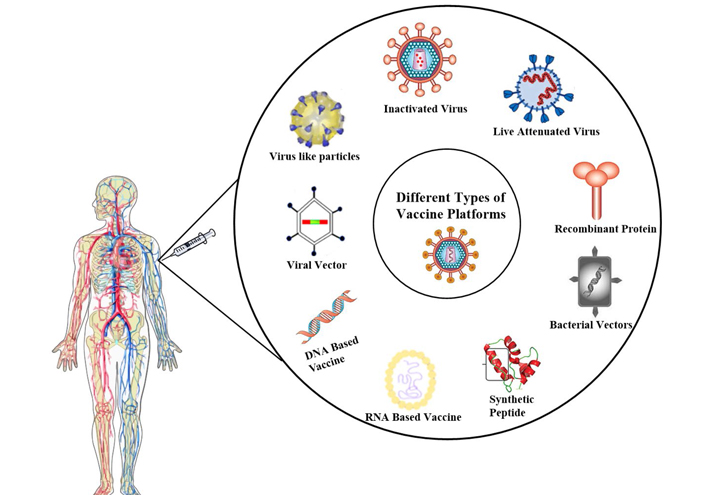 Different types of vaccination platforms for immunization. Vaccines can be developed using various platforms like an inactivated virus, live attenuated virus, recombinant-protein, bacterial vectors, synthetic peptides, RNA based, DNA based, viral vector, and virus-like particle [16]
Note. Adapted from "A COVID-19 vaccine: big strides come with big challenges" by Mellet J, Pepper MS. Vaccines (Basel). 2021;9:39. (https://www.ncbi.nlm.nih.gov/pmc/articles/PMC7827578/). CC BY.
Though, certain restrictions are accompanying numerous of these platforms that make them less responsive to speed up vaccine development in a pandemic. In the case of VLPs, it is only one antigenic protein, conformationally arranged in the shape of a particle to offer important epitopes for the immune system/cells. Large amounts of the virus would require to be grown under biosafety circumstances for a whole-inactivated vaccine; extensive safety study is mandatory to safeguard live-attenuated viruses are safe and do not straightforwardly return to the thoughtful influence of the usual microbial flora of the gut on the mucosal immune system [9–11].
It barely needs highlighting that the colonization of the gut by microbes after birth is probably the largest antigenic challenge an animal will experience. It is also important to emphasize that the normal flora in humans probably does not exist as a single entity. With over four hundred species of microbes in the human ileum and colon, there is significant scope for quantitative and qualitative heterogeneity among dissimilar persons [12]. Laboratory mice often have a limited, specific-pathogen-free flora, are often fed sterile food, and are usually used at a young age. Early in life, most people, experience gut microorganisms and pathogens modifications this response to a type I helper T (Th1) lymphocytes, possibly through the introduction of interleukin (IL)-12 [13, 14]. Among them, vaccination platforms are widely used and they can be developed by using different vaccination platform development techniques (Figure 1). In this review study, we have focus on the various aspects of COVID-19 vaccine development platforms and future COVID-19 vaccine development scope as well [15].
Vaccination platforms
An element that stimulates and triggers our immune system in contradiction of a specific disease and eradicates the pathogen, and protects us is called a vaccine. Numerous different kinds of vaccine development platforms exist, but the important functioning principle in all leftovers is the same. Vaccination permits the immune system to differentiate a pathogen and then initiate an immune response in contradiction of it [17]. At a later stage, when the body is exposed to a similar pathogen, immune machinery works to eradicate it from the body [1, 2]. Nowadays we have so many platforms that are available to develop the vaccine like viral vector base immunization, nucleic acid-base [deoxyribonucleic acid (DNA) acid and Ribonucleic acid (RNA)], whole pathogen base, live attenuated, base immunization, and many more (Figure 1). All types of platforms are useful for the development of any type of vaccine.
COVID–19 vaccine current status of development
As per the available data, numerous approaches are implemented in the development of coronavirus vaccines; the maximum of this targets the surface open spike (S) glycoprotein or S protein as the main inducer of counteracting antibodies. Quite a lot of S protein established approaches have been tried for evolving coronavirus vaccines, for example, the use of full-length S protein and expression in VLP, DNA, or viral vectors and so many [65, 66]. Currently, more than 300 vaccines candidate is under development stage, and from them, 9 are permitted for emergency use in many countries like the USA, UK, India, Australia, China, Russia, and many more COVID affected countries [67, 68]. These approved candidates showing impressive efficiency from 50% to 95%. Recently, several new severe acute respiratory syndrome coronavirus-2 (SARS-CoV-2) variants have emerged and are circulating globally, and preliminary findings imply that some of them may escapeimmuneresponses against previous variants and diminish the efficacyofcurrentvaccines. Most of these variants acquired new mutations in their surface protein which is the antigen in most of the approved/under development vaccines. It has been possible, because of tools for fast-tracked testing comprising small and large animal models for vaccine effectiveness analysis, assays for immunogenicity evaluation, critical reagents, international biological standards, these all things are made possible to accelerate the development of vaccines [21]. Following table presenting the compilation on current status of vaccine development throughout the world (Table 2).
Current development status of COVID-19 vaccine
Sr No
Vaccine platform
Country
Manufacturer
Development phase
Route of administration
Number of doses
Registration number
References
1
Nucleic acid (DNA/RNA) Vaccine
India
Cadila Healthcare Limited
Phase 3
ID
3
ZyCoV-D (2541524-47-2)
[33, 69–71]
Japan
Osaka University/AnGes/Takara Bio
Phase 2/3
IM
2
AG0301-COVID19 (2541593-92-2); AG0302-COVID19 (2541593-93-3)
USA
Inovio Pharmaceuticals/International Vaccine Institute
Phase 2/3
ID
3
INO-4800 (2535490-43-6)
Italy
Takis/Rottapharm Biotech
Phase 1/2
IM
*
COVID-eVax
Australia
University of Sydney/Bionet Co LtdTechnovalia
Phase 1
IM
2
COVIGEN
South Korea
GeneOne Life science Inc
Phase 1/2
ID
2
GLS-5310
Canada
Entos Pharmaceuticals Inc
Phase 1
IM
2
Covigenix VAX-001
USA
Providence Health and Service
Phase 1
ID
2
CORVax
Canada
Symvivo
Phase 1
Oral
1
bac-TRL S
South Korea
Genexine Consortium
Phase 1/2
IM
2
GX-19 (2541485678)
India
Cadila Healthcare Limited
Phase 3
ID
3
ZyCov-D (2541524472)
Japan
Osaka University/AnGes/Takara Bio
Phase 2/3
IM
2
AG0301-COVID 19 (2541593922), AG0302-COVID 19 (2541593933)
USA
Inovio Pharmaceuticals/International Vaccine Institute
Phase 2/3
ID
2
INO-4800 (2535490436)
Canada
Providence Therapeutics
Phase 1
IM
2
PTX-COVID 19-B
Thailand
Chulangkorn University
Phase 1
IM
2
ChulaCov19
China
Shulan (Hangzhou) Center for Disease Control and prevention of Gaungxi Zhuang Autonomous Region
Phase 1
IM
2
SARS-CoV-2 mRNA vaccine
UK
Imperial college London
Phase 1
IM
2
LNP-nCoVsaRNA (2545641-90-3)
USA/Singapore
Arcturus/Duke-NUS
Phase 2
ND
*
ARCT-021 (2541451-24-3)
Germany
Curevac
Phase 3
IM
2
CVNCOV (2541470-90-8)
2
Live-attenuated virus
India
Codagenix/Serum Institute of India
Phase 1
IN
2
COVI-VAC
3
Inactivated Virus
India
Bharat Biotech
Phase 3
IM
2
Covaxin/BBV152 (2501889-19-4)
Iran
Shifa Pharmed Industrial Co
Phase 1
IM
2
*
China
Sinovac
Phase 4
IM
2
CoronaVac (2480309-93-9)
China
Wuhan Institute of Biological Products/Sinopharm
Phase 3
IM
2
*
China
Beijing Institute of Biological Products/Sinopharm
Phase 3
IM
2
BBIBP-CorV (2503126-65-4)
China
Beijing Minhai Biotechnology Co
Phase 2
IM
1-3
*
China
Chinese Academy of Medical Sciences
Phase 3
IM
2
*
Kazakhstan
Research Institute for Biological Safety Problems
Phase 3
IM
2 QazCovid-in (2541708-50-1)
UK
Valneva, National Institute for Health Research
Phase 1/2
IM
2
VLA2001
Turkey
Erciyes University
Phase 1
IM
2
ERUCOV-VAC
4
Virus-Like Particle
India
SpyBiotech/Serum Institute of India
Phase 1/2
IM
2
*
Canada
Medicago Inc
Phase 2/3
IM
2
*
4
Virus-Like Particle
India
SpyBiotech/Serum Institute of India
Phase 1/2
IM
2
*
Canada
Medicago Inc
Phase 2/3
IM
2
*
5
Replicating Viral Vector
USA
Aivita Biomedical, Inc
Phase 1/2
IM
1
Dendritic cell vaccine AV-COVID-19
Thailand
Mahidol University; The Government Pharmaceutical Organization; Icahn School of Medicine
Phase 1/2
IM
2
NDV-HXP-S, Newcastle disease virus vector
South Korea
Cellid Co, Ltd
Phase 1/2
IM
1
AdCLD-CoV19
China
Jiangsu Provincial Center for Disease Prevention and Control
Phase 2
IN
1
DelNS1-2019-nCoV-RBD-OPT1 (Intranasal flu-based-RBD)
China
Shenzhen Geno-Immune Medical Institute
Phase 1
SC
3
COVID-19/aAPC vaccine
Israel
Israel Institute for Biological Research/Weizmann Institute of Science
Phase 1/2
IM
1
VSV-S
6
Nonreplicating viral vector
India
Bharat Biotech International Limited
Phase 1
IN
1
BBV154
USA
ImmunityBio, Inc and NantKwest Inc
Phase 1
Oral
1
hAd5-COVID-19/ hAd5-S-Fusion+ N-ETSD
USA
Johnson and Johnson
Phase 3
IM
1-2
Ad26.COV2.S/JNJ-78436735 (2541607-046-7)
USA
City of Hope
Phase 1
IM
1-2
COH04S1
USA
Vaxart
Phase 1
Oral
2
VXA-CoV2-1 (2543668-36-4)
USA
Altimmune, Inc
Phase 1
IN
1-2
AdCOVID
UK
University of Oxford/AstraZeneca
Phase 4
IM
1-2
AZD1222; ChAdOx1-S; ChAdOx1 nCoV-19 (2499737-08-3)
Russia
Gamaleya Research Institute
Phase 3
IM
2
rAd26-S+rAd5-S/Gam-COVID-Vac/Sputnik V (2541629-85-8)
China
CanSino Biological Inc/Beijing Institute of Biotechnology
Phase 3
IM
2
Ad5 nCoV (2540656-88-8)
Belgium
ReiThera (Italy)/LEUKOCARE (Germany)/Univercells
Phase 1
IM
1
Gard-CoV2 (2543636-44-6)
Germany
Ludwig-Maximilians-University of Munich
Phase 1
IM
2
MVA-SARS-2-S (2543700-32-7)
China
Shenzhen Geno-Immune Medical Institute
Phase 1/2
SC & IV
1
LV-SMENP-DC vaccine
7
Protein Subunit
India
Biological E Ltd
Phase 1/2
IM
2
*
USA and Netherlands
University Medical Center Groningen + Akston Biosciences Inc
Phase 1/2
SC and IM
1
SARS-CoV-2-RBD-Fc fusion protein
USA
Novavax
Phase 3
IM
2
NVX-CoV2373 (2502099-58-1)
USA
Kentucky Bioprocessing, Inc
Phase 1
IM
2
KBP-COVID-19/KBP-201 (2543206-35-3)
China/UK/USA
Clover Biopharmaceuticals Inc/GSK/Dynavax
Phase 2/3
IM
2
SCB-2019 (2541906-99-2)
France/UK
Sanofi Pasteur/GSK
Phase 1/2
IM
2
*
China
Anhui Zhifei Longcom Biopharmaceutical/Institute of Microbiology, Chinese Academy of Sciences
Phase 3
IM
2/3
ZF 2001 (2609662-31-7)
China
West China Hospital, Sichuan University
Phase 2
IM
2
*
Australia/South Korea
Vaxine Pty Ltd/Medytox
Phase 1
IM
1
COVAX-19 (2543231-22-5)
Cuba
Center for Genetic Engineering and Biotechnology
Phase 1/2
IM
3
Soberana 02 (2543416-58-4)
Taiwan/USA
Medigen Vaccine Biologics Corporation/NIAID/Dynavax
Phase 2
IM
2
MVC-COV1901 (2565776-92-1)
Germany
University Hospital Tuebingen
Phase 1
SC
1
CoVAC-1 (2543517-71-9)
Taiwan
Adimmune Corporation
Phase 1
ND
*
*
Taiwan
COVAXX (USA)/United Biomedical Inc Asia
Phase 2/3
IM
2
UB-612 (2543531-06-0)
Russia
FBRI SRC VB VECTOR, Rospotrebnadzor, Koltsovo
Phase 1/2
IM
2
*
Canada
University of Saskatchewan
Phase 1/2
IM
2
COVAC-1 and COVAC-2 subunit vaccine (S protein) + SWE adjuvant
Iran
Razi Vaccine and Serum Research Institute
Phase 1
IM/IN
3
Razi Cov Pars, recombinant S protein
South Korea
SK Bioscience Co, Ltd
Phase 1/2
IM
2
GBP510
Display full size
data not reported; Sr No: serial number; Bio: biotechnology; IM: intramuscular; IN: intranasal; SC: subcutaneous; ID: intradermal; IV: intravenous; Ltd: limited; ND: not disclosed; Co: company; Inc: incorporated
Future prospects of vaccine development against COVID-19
Currently, it is noticed that the virus rapidly going through the mutation process. Nowadays, many mutant variants were reported and it's becoming a new challenge to fight against the COVID-19 pandemic. The mutations take place rapidly in the S and receptor binding motif of the virus, it will affect recombination events and other positive pressures, and that the receptor-binding motif is the most conflicting area of S which may lead to the occurrence of escape mutants. Variants with several S mutations have been noticed in India Brazil, South Africa, Denmark, UK, and the USA. Two Variants B.1.1.7 and B.1.351 which were first started in the UK and South Africa, correspondingly, have produced a great deal of concern regarding their potential impacts on vaccine efficacy [72]. Recent data from in vitro studies establish that vaccine sera from numerous diverse vaccines have meaningfully reduced neutralization activity in contradiction of variant B.1.351 associated with older viral sequesters although the sera display little or no reduced neutralization against variant B.1.1.7. Variant B.1.617 was first detected in India, at the last of October and has meanwhile spread to more than many other countries, including Australia. Phase III trial results from AstraZeneca and Novavax were publicized that the vaccines had high efficiency (85.6% and 74.6%) in contradiction of the B.1.1.7 variant. However, in the future there may be many more mutation variants will arise, and to defeat them we have to develop a vaccine, which eradicates all types of variants in the future [73, 74]. As per current literature, there is a crucial requirement to start the development of efficient forms of prominent vaccines to defend in contradiction of the B.1.351 variant and others, also to improve an agenda for extended genomic investigation and quick analysis of novel variants to produce actionable research. For instant response, the emerging variants, the Coalition for Epidemic Preparedness Innovations (CEPI) set up a combined project named "Agility" in corporation with Public Health England (PHE), National Institute for Biological Standards and Control (NIBSC), and the Global initiative on sharing all influenza data (GISAID), to permit the speedy biological evaluation of developing variants both in vitro and in vivo. The agility project's purpose is to deliver open-access high-quality reports on the biological suggestions of developing variants and notify the requirement for strain changes or alterations for vaccines to guarantee efficiency is sustained [30, 75–77].
Conclusions
In this review, we have described different vaccine platforms for the development of the vaccine. There are viral and non-viral vector based platforms available for vaccine development. Viral vectors have been explored for their application as vaccine antigen transporters. The use of replicating or non-replicating viruses as a platform to supply vaccine antigen. The main challenge to consider is the likely introduction of vector-specific immunity which consequently impairs the capability of viral vectors to provoke appropriate immune responses in contradiction of the antigen being conceded. Nevertheless, this problem can be prevented by accepting suitable vaccination approaches such as the use of viruses that do not spread in humans and the use of diverse virus serotypes for major and improvement vaccinations. Therefore, many viral-vectored vaccines, non-viral vector vaccines, and immunotherapeutic agents are presently being estimated and used in vaccine developments. Although the additional challenges regarding vaccine development are to be explored in the future.
Abbreviations
| | |
| --- | --- |
| COVID-19: | coronavirus disease-19 |
| DNA: | deoxyribonucleic acid |
| GIT: | gastrointestinal tract |
| HBV: | hepatitis B virus |
| mRNA: | messenger RNA |
| OMVs: | outer membrane vesicles |
| RNA: | ribonucleic acid |
| S: | spike |
| SARS-CoV-2: | severe acute respiratory syndrome coronavirus-2 |
| VLPs: | virus-like particles |
References