Abstract
Mitochondria are important organelles for high energy synthesis, reactive oxygen species balancing, antiapoptotic molecule production, membrane stability, intracellular calcium buffering, neuroplasticity and neurotransmission. Dysfunction in mitochondria is considered to be involved in the pathophysiology of mental problems. It has been observed that several drug types used to treat brain illnesses can harm mitochondria by altering the oxidative phosphorylation system and the gene expression of mitochondria-related proteins. In some studies, it has been observed that mitochondrial biogenesis shows a therapeutic effect in the management of mitochondrial disorders. Many therapeutic compounds are effective in the activation of mitochondrial biogenesis. The comorbidity of mental problems observed in those with mitochondrial dysfunction and the change in the efficacy of the cellular respiratory system have attracted researchers to understand the pathways and possible therapeutic strategies in neurological disorders. This article has attempted to understand the impact of mitochondrial function and mitochondrial dysfunction in the pathogenesis of brain disorders to develop potential therapeutic drugs.
Keywords
Mitochondria, mitochondrial function, mitochondrial dysfunction, neurological disorder
Introduction
Around 200 to 2,000 mitochondria are found in a single cell to supply energy, whereas human germ cells like oocytes contain 10,000 and spermatozoa have 16 mitochondria. Almost all cells contain it, with the exception of adult erythrocytes. It primarily generates energy through two metabolic processes: the Krebs cycle of citric acid and the electron transport chain (ETC) [1]. Two molecules of pyruvate are produced by the cytosolic breakdown of glucose or carbohydrates, and these molecules are transported into the mitochondrial tricarboxylic acid (TCA) cycle. Pyruvate carboxylase and pyruvate dehydrogenase (PDH) come into contact with the pyruvate transported across the membranes (PDH). PDH is a mixture of the three enzymes: dihydrolipoyl dehydrogenase, transacetylase, and PDH. Coenzymes and substrates are required for the PDH to operate. Numerous nutrients are necessary for healthy mitochondrial activity (Table 1). A lot of neurodevelopmental processes also depend on mitochondria. It is essential for cellular stability, energy production through the metabolism of steroid hormones, proteins, lipids, reactive oxygen species (ROS) level control, and the apoptosis mechanism [2, 3]. The development of mouse embryos and the formation of synapses depend on mitochondrial fission and fusion [4]. Additionally, inappropriate cellular energy production caused by abnormalities in these pathways impairs neurodevelopment by interfering with neurotransmission, myelination, and neural connectivity [5]. Many understandings document that functional alteration of complex-I contributes to the ruin of cellular respiration and disturbs the mitochondrial factional system in brain disorders [6]. By modifying numerous cellular pathways, disturbed brain energy metabolism and mitochondrial malfunctioning oxidative stress have been linked to the etiology of brain diseases [7]. Molecular studies proposed a strong link between inflammation and mitochondrial impairment [8]. The combined effect of neuroinflammation and mitochondrial dysfunction can also activate apoptosis [9]. Neurogenesis, the process of making new neurons, is thought to be an important part of synaptic plasticity in natural settings and in the repair of neurons that have been damaged [10, 11]. Several studies have consistently found that different types of stress reduce hippocampal neurogenesis in the adult brain, and neurogenesis is also a pathophysiological hypothesis of brain disorders [12]. Long-term administration of various drugs used for neurological disorders is observed to affect mitochondrial gene expression [13]. Many of these drugs, which are reported in Table 2, may halt the mitochondrial respiratory chain. Clozapine is found to change mitochondrial morphology, its membrane potential, and stimulate inflammation [14]. Moreover, haloperidol also causes degeneration of ultrastructural alterations in mitochondria [15]. The importance of genetic variants in the mitochondrial nicotinamide adenine dinucleotide (NADH)-ubiquinone oxidoreductase 75 kDa subunit (NDUFS1) with antipsychotic drug-induced weight gain has been brought to light by the association between nuclear-encoded mitochondrial genes and antipsychotics [16]. The protective effect of estrogen on decreasing mitochondrial dysfunction and increasing the function of ETC while activating antioxidant defense systems has been reported in some studies [17, 18]. Furthermore, N-acetylcysteine has been shown to protect mitochondria from cadmium-induced oxidative damage and toxicity by increasing cytosolic cytochrome c release, decreasing mitochondrial membrane potential, decreasing B-cell lymphoma 2 (Bcl-2) expression, and increasing poly-polymerase cleavage, caspase cascades, and p53 expression [19, 20]. Chloroacetic acid significantly increased oxidative biomarkers, mitochondrial dysfunction and decreased intracellular glutathione (GSH) via increasing cytochrome c release and stimulating the mitochondria-dependent apoptosis system by initiating caspase cascades, which were inhibited with the treatment of N-acetylcysteine [21]. Many nutrients may alter the functioning of mitochondrial complexes as well as inflammatory states of neurons, including protective actions against drug-induced mitochondrial dysfunctions [21, 22]. A list of such nutrients is tabulated in Tables 1 and 2 respectively as below:
Nutrients for mitochondrial complexes function
Mitochondrial complex
Nutrients
ETC complexes
Copper, iron, sulfur, riboflavin and ubiquinone coenzyme Q10 (CoQ10)
PDH complex
Riboflavin, niacin, thiamin, pantothenic acid and lipoic acid
TCA cycle

Iron, sulfur, thiamin, riboflavin, niacin, pantothenic acid, cysteine, magnesium, manganese, and lipoic acid

Synthesis of heme for heme-dependent enzymes in the TCA cycle needs various nutrients such as copper, iron, riboflavin, pyridoxine and zinc

Synthesis of L-carnitine requires ascorbic acid

Shuttling electrons between ETC complexes
Copper, iron and ubiquinone
Display full size
Drug-induced mitochondrial dysfunction
| Drugs class | Drugs |
| --- | --- |
| Alcoholism medications | Disulfiram |
| Anti-anxiety | Alprazolam, diazepam |
| Anti-dementia | Tacrine, galantamine |
| Antidepressants | Amitriptyline, amoxapine, citalopram, fluoxetine, Symbyax, Sarafem, Fontex, Foxetin, ladose, Fluctin, prodep, Fludac, oxetin |
| Antiepileptic | Valproic acid, mood stabilizers lithium |
| Anti-Parkinson's | Tolcapone |
| Antipsychotics | Chlorpromazine, fluphenazine, haloperidol, risperidone, quetiapine, clozapine, olanzapine |
| Barbiturates | Amobarbital, aprobarbital, butabarbital, butalbital, hexobarbital, methylphenobarbital, pentobarbital, phenobarbital, primidone, propofol, secobarbital, thiobarbital |
Display full size
Mitochondria biogenesis and mitophagy
The primary energy source for cellular function is provided by the mitochondria, which make adenosine triphosphate (ATP) through oxidative phosphorylation (OXPHOS). Continuous mitochondrial fission and fusion, mitochondrial biogenesis, and mitophagy all work together to control the shape, quantity, quality, turnover, and heredity of mitochondria. ROS, fatty acid oxidation, amino acid metabolism, pyridine production, phospholipid alterations, calcium regulation, as well as cell viability, senescence, and death are all under the control of mitochondria [23]. The careful balancing of two opposing processes is necessary to maintain mitochondrial homeostasis—mitophagy, which removes harmed mitochondria and mitochondrial biogenesis which produces new mitochondria. Recent studies have identified a number of specific molecules involved in preserving the homeostasis of mitochondria, including the phosphatase and tensin homolog (PTEN)-induced putative kinase 1 (PINK1) Pakin, which activates protein synthesis in damaged mitochondria and the ligand-activated transcription factor aryl hydrocarbon receptor, also acts as a protector from oxidative stress [24]. In response to stress, mitophagy, a mitochondrial quality control system that allows the removal of damaged and unnecessary mitochondria, stops these negative effects and restores cellular balance. Permanent mitochondrial damage can either activate innate immunity by increasing ROS or releasing mitochondrial deoxyribonucleic acid (mtDNA), or cause cell death by releasing cytochrome c and other apoptogenic proteins [25, 26].
Role of mitochondria in brain
Mitochondrial function in apoptosis
Apoptosis is a biologically regulated process of planned cell death that is managed by a few particular genes. It is an energy-dependent process to increase the growth of cancerous cells, while uncontrolled apoptosis can facilitate the neurodegeneration process [27, 28]. This process involves quick phagocytosis by surrounding cells, cytoplasmic shrinkage and chromatin condensation. The basic physiological principles are regulated by the apoptotic process which eliminates superfluous glial cells and neurons that are unable to create neural connections [1]. A large number of neurons are formed throughout adult neurogenesis in which neurons further compete to form neuronal connections, and those neurons not having neurotrophic or electrical activity undergo the apoptotic process. Biologically, the apoptotic system is activated by both extrinsic and intrinsic pathways via many factors. Tumor necrosis factor (TNF) and cluster differentiation 95 (CD95) recruit caspase-8 in the extrinsic pathway via Fas- (transmembrane proteins) (Figure 1). Further, leakage of caspase-8 into the cytosol entailed the cleavage and initiation of the BH3-interacting death agonist to trigger the caspase cascade [29, 30]. This finally facilitates an increase in outer mitochondrial membrane permeability to release apoptotic molecules. The intrinsic pathway is further divided into two pathways, including endoplasmic reticulum and mitochondrial apoptosis that are initiated by intracellular signaling molecules. Internal apoptosis activators, such as oxidative stress, glutamate's hyperactivation of N-methyl-D-aspartate receptors (NMDARs) and elevated Ca2+ and ROS levels induce mitochondrial apoptosis. This releases cytochrome c into the cytoplasm which binds to apoptotic protease activating factor 1 (Apaf-1), activating a number of kinases that can reduce the mitochondrial membrane potential. Caspases-3 and -7, which are also activated by stimulated caspase-9, are involved in cell death. Bcl-2 prevents the release of cytochrome c into the cytoplasm by blocking the permeability transition pore [31]. Apoptosis factors, mitochondrial membrane permeabilization and endonuclease G transport to the nucleus and lead to chromatolysis and ultimately apoptosis by deactivating repair mechanisms, ending cell cycle development, disabling antiapoptotic molecules, facilitating cytoskeletal and disassembling of nuclear structures and triggering cell phagocytosis [32] (Figure 1). Certainly, apoptosis is necessary for the primary steps of development and adult neurogenesis and also mediates long-term potentiation and synaptic plasticity [1]. Therefore, mitochondrial dysfunction can modify mitochondrial membrane potential and release various apoptosis factors.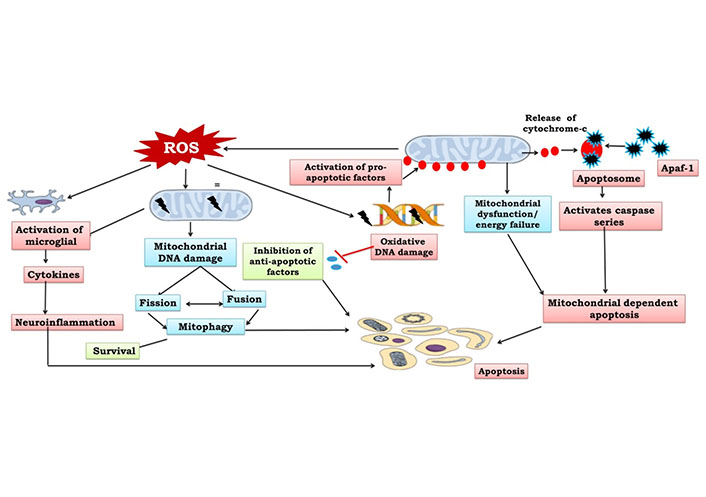 Mitochondrial apoptotic pathway
Role of mitochondria in neurogenesis
Neural stem cell proliferation promotes neuron differentiation, known as neurogenesis, is an extremely complicated mechanism. Furthermore, during neurogenesis, the number of mitochondria per cell increases, and the neurogenesis process is dependent on the number of mitochondria and total ATP production [33]. Moreover, mitochondria get to enter the developing axon and help in the process of axogenesis. There is evidence that axogenesis may stop as a result of mitochondrial malfunction. [3]. Mitochondria are thought to be involved in the traffic between multiple subcellular compartments, including axons, cell bodies, dendrites, and synaptic terminals, as part of the neuroplasticity mechanism [34]. Therefore, mitochondria support the development of the brain through forming dendrites and axons by providing energy at presynaptic as well as postsynaptic sites [1]. Hence, mitochondrial dysfunction can cause the cessation of differentiation and maturation of neurons. Furthermore, the mitochondrion controls neuroplasticity to maintain various neuronal functions such as neural growth, neural differentiation, dendritic remodelling, and neurotransmitter release [3, 35]. During the neuronal process, presynaptic activity increases the transmission of long-lasting synaptic formation, which is known as post-tetanic potentiation. It involves the processing of neural circuitry for the formation of memory. Additionally, mitochondria trap Ca2+ from the cytoplasm and accumulate it in their matrix while taking part in a variety of Ca2+-mediated signaling events [36]. Many mitochondrial genetic studies have also demonstrated that mitochondria influence various brain functions and behaviors.
Mitochondrial dysfunction induced neurological disorders
Therapeutic strategy
Activation of mitochondrial biogenesis
It has been demonstrated in in vitro and in vivo investigations that mitochondrial biogenesis may benefit mitochondrial diseases. A number of therapeutic medications are utilized to trigger mitochondrial biogenesis. A biomarker of mitochondrial malfunction is energy shortage. However, these substances are ineffective in treating the underlying cause of mitochondrial dysfunction [118]. Nuclear respiratory factors 1 and 2 (NRF1 and NRF2), PGC-1 and other transcription factors such as PPAR interact to control the complex pathway that controls mitochondrial biogenesis [119]. Once activated, PPARs and NRFs both boost the expression of genes involved in fatty acid oxidation and the transcription of OXPHOS genes (FAO). PGC-1, PGC-1α can be deacetylated and phosphorylated by Sirt1 and adenosine monophosphate-activated protein kinase (AMPK), respectively, to boost its activity [120]. Sirt1 is a nuclear deacetylase that deacetylates acetyl-lysine residues in proteins using oxidized NAD+. Increased cellular NAD+ levels cause Sirt1 to become active. Nicotinamide riboside and PARP 1 can help with this rise [121]. In animal models of COX deficiency, 5-aminoimidazole-4-carboxamide ribonucleotide (AICAR), an AMPK agonist, has been shown to improve respiratory chain complex activity. A pan-PPAR activator called bezafibrate has been studied in the fibroblasts of people with mitochondrial disorders, stimulated PGC-1 levels, and increased mitochondrial respiratory chain deficits [122]. Intriguingly, human fibroblasts and animal models have both been shown to respond favorably to resveratrol as a stimulant of mitochondrial biogenesis [123, 124]. Retinoic acid may also activate the retinoid X receptor-alpha (RXRalpha) in cybrid containing the m.3243A>G mutation, improving the respiratory chain deficit, according to data [125].
Clinical studies on the drug affecting mitochondrial functions
Preclinical studies reported that the protective functions of mitochondria may be increased by endogenous antioxidant defense mechanisms and respiration rate coenzyme with the treatment of CoQ10, vitamins, acetyl, L-carnitine and α-lipoic acid, resveratrol for the management of neurological disorders [50, 65, 75]. Clinical trials have been conducted on some therapeutic compounds for the treatment of mitochondrial dysfunction-induced disorders (Tables 3 and 4).
Clinically approved treatments for neurological disorders induced by mitochondrial dysfunction
| Drug name | Activity | Clinical trial number |
| --- | --- | --- |
| EPI-743 | Antioxidant | NCT01721733 |
| KH176 | Antioxidant | NCT02544217 |
| RP103 (cysteamine bitartrate delayed release) | Cystine-depleting agent | NCT02023866 |
| Idebenone | Antioxidant | NCT00887562 |
| RP103 (cysteamine bitartrate delayed release) | Cystine-depleting agent | NCT02473445 |
| Medium chain triglycerides | Shift heteroplasmy | NCT01252979 |
| L-arginine | NO precursor | NCT01603446 |
| L-arginine (IV) | NO precursor | JMA-IIA00023 |
| L-arginine (PO) | NO precursor | JMA-IIA00025 |
| Arginine and citrulline | NO precursor | NCT01339494 |
| Taurine | Taurine modification | UMIN000011908 |
| Pyruvate | NAD donor | JMA-IIA00093 |
| DCA | Lowering lactate levels | NCT00068913 |
Display full size
DCA: dichloroacetate; NO: nitric oxide
List molecules that regulate several mitochondrial functions impaired in neurodegenerative disorder examined under preclinical as well as in clinical trials
| Drugs/molecule | Disease | Type of studies | Outcomes | References |
| --- | --- | --- | --- | --- |
| α-lipoic acid | AD | Preclinical and clinical | Neuroprotective effect, learning and memory improvement | [126] |
| Inosine | ALS | Preclinical and clinical | Safety, tolerability, and effective in increasing urate serum levels | [127] |
| Inosine/urate | PD | Preclinical and clinical | Safety, tolerability, and effective in increasing urate serum levels | [128, 129] |
| Melatonin | ALS, PD, AD | Preclinical and clinical | Safety, better sleep, and a decrease in oxidative stress indicators; no advantages for motor activity; no ameliorations in cognitive functions | [130, 131] |
| Mito-Apocynin | AD, PD | Preclinical | Motor deficit & neuroinflammation attenuation (neuroprotection) | [132–134] |
| Mito Q | ALS, AD, HD, PD | Preclinical | Lengthening lifespan, mitigating cognitive decline, and increasing hindlimb strength; preventing the loss of dopaminergic neurons in a 6-OHDA PD mice model and decreasing ROS-induced autophagy while fostering mitochondrial fusion | [135, 136] |
| N-acetylcysteine | AD, PD, HD | Preclinical | An improvement in cognitive and motor impairments; an increase in brain connections, GSH levels, TH and complex 1 activity; protection against neuroinflammation | [137] |
| SKQ1 | AD | Preclinical | Improvements in cognition and behavior (reduction of ROS generation) | [138] |
| Szeto-Schiller tetrapeptides | AD, PD, ALS | Preclinical | Improved anterograde axonal transport and synaptic activity, increased survival and improved behavior in SOD1G93A mice, as well as increased lifespan and improved motor ability | [138, 139] |
| Vitamin C | AD | Preclinical | Protection of mitochondrial morphology (reduction of oxidative stress damage) and prevention of apoptosis | [140] |
| Carotenoids (astaxanthin) | AD | Preclinical | Hippocampal neurons treated with A 1–42 oligomers and astaxanthin are protected from the formation of ROS; decreasing neuroinflammation and synaptotoxic events | [141] |
| Vitamin E | AD | Preclinical, clinical | Vitamin E on glutamate-treated astrocytes: healing of mitochondrial damage (MMP stabilization and decreased lipid peroxidation); additional research on AD sufferers is required | [142–144] |
| Vitamin E | ALS | Preclinical, clinical | Several clinical investigations have revealed contradictory results in terms of delaying the onset and course of ALS, but more research is required | [145] |
| PGC-1α | PD | Preclinical | Synuclein oligomerization in a cell culture model with PGC-1 restoration; animals with the A30P synuclein gene: decreased synuclein oligomerization | [146] |
| Olesoxime | PD, HD | Preclinical | Enhancing mitochondrial function and preventing apoptosis; stabilizing the mitochondrial membrane improvement in behavior and cognition | [147] |
| Olesoxime | SMA | Preclinical, clinical | Efficacy in motor improvement and safety have been confirmed; it could be administered in combinatorial therapy | [148] |
| Curcumin | ALS | Preclinical, clinical | Increased lifespan and slowed illness progression, although more research on various delivery techniques is required | [149] |
| Flavonoids | ALS | Preclinical | Motor performances improvement [prevention of MN (motor neurons) loss] | [145] |
| Quercetin | AD | Preclinical | Improvements in cognitive capabilities, antioxidant activity, MMP and mitochondrial morphological restoration, a reduction in ROS, a rise in ATP levels, and suppression of apoptosis | [149] |
| Resveratrol | AD | Preclinical, clinical | Cognitive decline mitigation | [149] |
| Pramipexol | PD | Preclinical | Neuroprotection (mPTP opening prevention and a decrease in ROS production) | [150] |
Display full size
ALS: amyotrophic lateral sclerosis; 6-OHDA: 6-hydroxydopamine; MMP: matrix metalloproteinases; MN: motor neurons; SKQ1: Visomitin; SMA: spinal muscular atrophy; TH: thyroid hormone
Conclusion and future perspective
In addition to producing ATP, mitochondria also maintain Ca2+ homeostasis, activate apoptosis, and control the body's antioxidant defense system. Understanding the pathogenesis of neurological illnesses requires an understanding of how mitochondrial function, neural activity, and energy metabolism interact biologically. There is strong evidence that the pathophysiology of numerous neurodegenerative disorders is heavily influenced by oxidative damage, DNA mutations, mitobiogenesis, mitophagy, mitochondrial dynamics, metabolism, and mitochondrial interactions with other organelles. Redox dysregulation is a result of genetic and environmental risk factors in neuropsychiatric diseases. Emerging targets for the creation of novel medications for neuropsychiatric diseases include genes that control mitochondrial dynamics. Preclinical research has also shown that increasing endogenous antioxidant defense mechanisms and respiration rates, such as CoQ10, vitamins, acetyl L-carnitine, and L-lipoic acid, can protect mitochondria against inflammation and apoptosis and is being investigated for the treatment of neurological disorders. Preclinical investigations deepen our understanding of the relationship between mitochondrial dysfunction and neurological illnesses, but more clinical evidence is required to fully comprehend the pathophysiology of brain disorders. Clinical trials that looked at novel drugs for the treatment of neurological conditions brought on by mitochondrial malfunction are now complete. There is a critical need for greater research in the area of treating mitochondrial dysfunction and the creation of more potent treatments. The goal of this paper was to create a conversation on the main ways that mitochondria affect neurodegenerative disorders. Currently, a few of these systems are thought to be key targets for pharmaceutical therapies to prevent neurodegeneration. A wider window for intervention will be provided by research into other factors that affect how mitochondrial functions are controlled in neural cells.
Abbreviations
| | |
| --- | --- |
| AD: | Alzheimer's disease |
| ALS: | amyotrophic lateral sclerosis |
| ATP: | adenosine triphosphate |
| Aβ: | amyloid-β |
| CoQ10: | coenzyme Q10 |
| COX: | cytochrome c oxidase |
| DISC-1: | disrupted-in-schizophrenia-1 |
| Drp1: | dynamin-related protein 1 |
| ETC: | electron transport chain |
| G6P: | glucose-6-phosphate |
| G6PD: | glucose-6-phosphate dehydrogenase |
| GSH: | glutathione |
| HD: | Huntington's disease |
| HK1: | hexokinase 1 |
| MCU: | mitochondrial calcium uniporter |
| MCUR: | mitochondrial calcium uniporter regulator |
| mPTP: | mitochondrial permeability transition pore |
| mtDNA: | mitochondrial deoxyribonucleic acid |
| NAD+: | nicotinamide adenine dinucleotide |
| NF-κB: | nuclear factor kappa B |
| NMDARs: | N-methyl-D-aspartate receptors |
| NRF1: | nuclear respiratory factor 1 |
| OMM: | outermost membrane of mitochondria |
| OXPHOS: | oxidative phosphorylation |
| PARP: | poly adenosine di-phosphate-ribose polymerase |
| PD: | Parkinson's disease |
| PDH: | pyruvate dehydrogenase |
| PET: | positron emission tomography |
| PGC-1: | proliferator-activated receptor-coactivator-1 |
| PPAR: | peroxisome proliferator-activated receptors |
| ROS: | reactive oxygen species |
| SIRT1: | sirtuin 1 |
| TCA: | tricarboxylic acid |
| TSPO: | translocator protein |
References