Abstract
Normal hepatobiliary function depends on an adequate bile flow from the liver through the biliary tree to the gallbladder, where bile is stored and concentrated, and from the gallbladder to the duodenum when it is required for the digestive process. Interruption of this secretory function results in partial or complete cholestasis, which is accompanied by important repercussions due to the lack of bile acids in the intestine and their regurgitation from hepatocytes to blood together with potentially toxic compounds that are normally eliminated in bile. The presence of active and selective transporter proteins located at both poles of the plasma membrane of hepatocytes, cholangiocytes, and epithelial cells of the ileal mucosa, together with the ability of hepatocytes to synthesize bile acids from cholesterol, enables the so-called bile acid enterohepatic circulation, which is essential in liver and gastrointestinal tract physiology. The presence in the ducts of the biliary tree of agents reducing their luminal diameter by external compression or space-occupying obstacles, either in the duct wall or its lumen, can result in total or partial obstructive cholestasis. The clinical impact and management of cholestasis are different depending on the intrahepatic or extrahepatic location of the obstacle. Thus, surgical interventions can often be helpful in removing extrahepatic obstructions and restoring normal bile flow to the duodenum. In contrast, hepatocyte or cholangiocyte damage, either global, restricted to subcellular compartments, or more specifically affecting the elements of the canalicular secretory machinery, may result in hepatocellular cholestasis or cholangiopathies. In these cases, bile flow interruption is usually partial and, except for extremely severe cases when liver transplantation is required, these patients often treated with pharmacological agents, such as ursodeoxycholic acid (UDCA) and rifampicin. The present review gathers updated information on the etiopathogenesis and pathophysiological aspects of different types of cholestasis.
Keywords
Bile acid, bile flow, biliary tree, cholangiocyte, hepatocyte, secretion, transport
Introduction
Cholestasis is defined as the lack of normal generation of bile by hepatocytes and cholangiocytes or its reduced ability to reach the duodenum, which occurs as the result of convergent flow through the biliary tree and the gallbladder-connecting ducts. This alteration can be primarily or secondarily linked to many acute or chronic liver diseases [1]. During the last few decades, our understanding of the physiology and pathophysiology of the biliary system has dramatically increased, since the time, by the middle of the twentieth century, when the accepted concept of bile formation by hydrostatic forces was replaced by the more accurate one of osmotic filtration-driven bile flow [2, 3] until the modern availability of tools capable of exploring molecular and genetic aspects of cholestasis. Many excellent scientists have contributed to the progress in this field of hepatology [4]. With this special issue on cholestasis, we want to pay homage to those who have made this extraordinary scientific jump possible and are no longer among us.
Altered biliary secretion is commonly diagnosed following well-established clinical practice algorithms (see, for instance, the one shown in Figure 1). Elevated serum bile acids are the most sensitive marker of cholestasis. Interpreting the results from serum bile acid analyses must consider the existence of gender-associated differences in bile acid pool composition [5, 6]. However, this has little impact on total bile acid serum levels and hence in establishing the threshold between normocholanemia and hypercholanemia, which is commonly fixed at 10 μmol/L. Although, for technical reasons, hyperbilirubinemia is more commonly used as a biomarker for cholestasis. However, the elevation of serum bilirubin levels does not always indicate cholestasis. For instance, whereas conjugated hyperbilirubinemia is commonly due to impaired bile secretion, elevated unconjugated bilirubin in neonates could be due to immaturity-associated low expression of the conjugating enzyme uridine 5'-diphospho (UDP)-glucuronosyltransferase (UGT). Criteria for the diagnosis of neonatal cholestasis include serum total bilirubin > 5 mg/dL and direct (conjugated) > 20%, or serum total bilirubin < 5 mg/dL but direct bilirubin being > 1 mg/dL. If the situation persists for more than 14 days, an evaluation by a pediatric hepatologist is required. Cholestasis affects 1/2,500 neonates born at term. Most frequent causes of neonatal cholestasis are biliary atresia (25–35%), hereditary disease (25%), metabolic disorders (20%), α1-antitrypsin (A1AT) deficiency (A1ATD, 2%), Alagille syndrome (2%), porta-cava shunt (2%), mitochondriopathies (2%), and biliary sludge (2%) [7].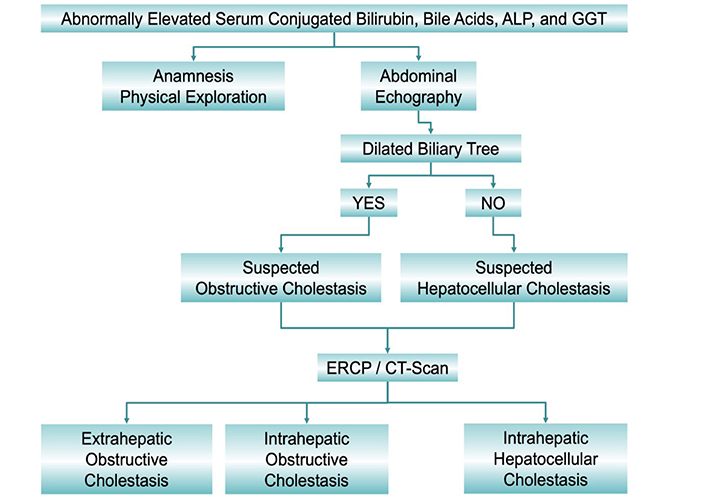 Classification of cholestasis according to biochemical data, image information obtained by abdominal echography, endoscopic retrograde cholangiopancreatography (ERCP) and computed tomography scan (CT-Scan), and the anatomical location of the cause. ALP: alkaline phosphatase; GGT: γ-glutamyltransferase
Cellular and molecular bases of bile formation
The liver performs multiple functions in the organism, such as those related to the metabolism of carbohydrates (i.e., glucose homeostasis, catabolism of hexoses, gluconeogenesis, glycogenolysis, and glycogenogenesis), lipids (i.e., cholesterol synthesis and catabolism, production of fatty acids and triglycerides, synthesis and metabolism of plasma lipoproteins, β-oxidation of fatty acids and production of ketone bodies during fasting), proteins (i.e., synthesis of plasma proteins, the biotransformation of ammonium into urea, catabolism of purine and pyrimidine bases, interconversion of non-essential amino acids), and other compounds, such as heme and porphyrins. Moreover, the liver is involved in hemostasis by controlling the synthesis of fibrinogen and coagulation factors III, V, VII, IX, and XI and in the storage of multiple substances such as glucose in the form of glycogen, vitamin B12, iron, and copper. Another essential role of the liver is the elimination from the body of many endogenous (e.g., bilirubin) and xenobiotic (e.g., phytosterols) compounds. This function is tightly related to detoxification phase I and phase II reactions taking place prior to exporting the biotransformed substances into bile [8].
The hepatobiliary system in charge of bile formation begins at a broad network of tiny canaliculi formed by the apical membrane of hepatocytes, which are connected through biliary ductules or canals of Hering, with intrahepatic and extrahepatic bile ducts constituting the biliary tree, to which the gallbladder is attached [9]. The latter is essential to concentrate bile components by water reabsorption [10], which favors that bile acids secreted into the duodenum could form mixed micelles with dietary fat in order to stimulate their digestion and favor the intestinal uptake of lipids and fat-soluble vitamins. When the normal supply of bile to the duodenum through the common bile duct (CBD) is entirely blocked or partially impaired, the result is complete or partial cholestasis, respectively. In addition to the lack of bile in the intestinal lumen, cholestasis is also often accompanied by regurgitation toward blood across the basolateral membrane of hepatocytes of cholephilic compounds, i.e., compounds that are normally secreted in bile [11, 12]. Here we will review the updated information on the different types of cholestasis classified based on their etiopathogenesis and pathophysiological features.
Accordingly, before starting, we should remind a few basic morphological and physiological concepts regarding bile flow [13]. This process relays on the polarity of epithelial cells in charge of bile secretion, i.e., hepatocytes in the liver parenchyma and cholangiocytes in the biliary tree, and the presence in their basal and apical plasma membranes of specific transporters (Figure 2, Table 1). Bile flow is initially generated at the canalicular space, which is formed by the opposed apical (canalicular) membranes of two or, less frequently, three hepatocytes [14]. The surface of this membrane is less than 1% of the global hepatocyte plasma membrane, but two essential characteristics make it possible for the canalicular membrane to play an essential role in bile formation, namely, a) the presence of an osmotic barrier formed by tight junctions (TJs) located between adjacent hepatocytes, and b) the existence in the canalicular membrane of specific and active transporters (Figure 2, Table 1). Among them, the ATP-binding cassette (ABC) protein bile salt export pump (BSEP, gene symbol ABCB11), is considered the major driving force to generate canalicular bile flow by active transport into the canalicular lumen of monoanionic bile acids [15]. These molecules generate the osmotic gradient accounting for the flux of water toward the biliary space, hence resulting in the so-called bile acid-dependent fraction (BADF) of bile flow [16]. This is added to the osmotic flux of water attracted by other osmolytes also secreted into the canaliculi [e.g., bicarbonate, glutathione (GSH), organic anions, and cations unmodified or conjugated with GSH, sulfate, or glucuronic acid] by canalicular transporters, such as multidrug resistance protein 1 (MDR1), multidrug resistance-associated protein 2 (MRP2), multidrug and toxin extrusion 1 (MATE1), and anion exchange protein 2 (AE2), known as the bile acid-independent fraction (BAIF) of bile flow [16].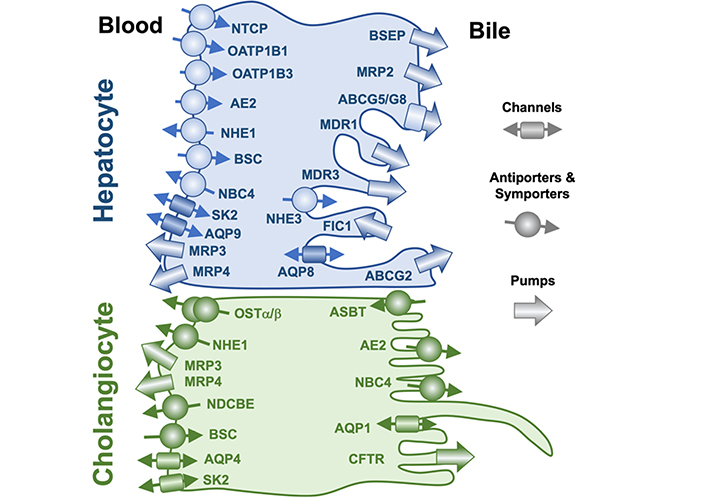 Localization at the apical and basolateral plasma membrane of hepatocytes and cholangiocytes of proteins involved in bile formation. Nomenclature for proteins depicted here and their natural substrates are listed in Table 1. ABCG5: ATP binding cassette subfamily G member 5; AQP9: aquaporin 9; ASBT: apical sodium-dependent bile acid transporter; BSC: bumetanide-sensitive Na+-K+-2Cl– cotransporter; CFTR: cystic fibrosis transmembrane conductance regulator; FIC1: familial intrahepatic cholestasis type 1; NBC4: sodium bicarbonate cotransporter 4; NDCBE: sodium-driven chloride/bicarbonate exchanger; NHE1: sodium–hydrogen antiporter 1; OSTα/β: organic solute transporter α/β; SK2: Ca2+-activated small conductance K+ channel 2
Plasma membrane transporters and channels involved in hepatobiliary function
Cells
Membrane
Protein
Gene
Substrates
Hepatocytes
Basolateral
NTCP
SLC10A1
Bile acids
OATP1B1
SLCO1B1
Bile acids, organic anions
OATP1B3
SLCO1B3
Bile acids, organic anions
MRP3
ABCC3
Bile acids, organic anions
MRP4
ABCC4
Bile acids, organic anions
NBC4
SLC4A5
Na+/HCO3–symporter
NHE1
SLC9A1
Na+/H+ antiporter
SK2
KCNN2
K+ channel
BSC
SLC12A2
Na+/Cl– symporter
AQP9
AQP9
Water channel
Hepatocytes
Canalicular
BSEP
ABCB11
Bile acids
MRP2
ABCC2
Organic anions
MDR1
ABCB1
Several
BCRP
ABCG2
Bile acids, steroids
MDR3
ABCB4
Phosphatidyl choline
FIC1
ATP8B1
Phosphatidyl serine
ABCG5/G8
ABCG5/G8
Cholesterol
NHE3
SLC9A3
Na+/H+ antiporter
AQP8
AQP8
Water channel
Cholangiocytes
Basolateral
OSTα/β
SLC51A/B
Bile acids, organic anions
NHE1
SLC9A1
Na+/H+ antiporter
NDCBE
SLC4A8
Cl–/HCO3– antiporter
SK2
KCNN2
K+ channel
BSC
SLC12A2
Na+/Cl– symporter
MRP3
ABCC3
Bile acids, organic anions
MRP4
ABCC4
Bile acids, organic anions
AQP4
AQP4
Water channel
Cholangiocytes
Apical
ASBT
SLC10A2
Bile acids
AE2
SLC4A2
Cl–/HCO3– antiporter
CFTR
ABCC7
Cl– channel
NBC4
SLC4A5
Na+/HCO3– symporter
AQP1
AQP1
Water channel
Display full size
BCRP: breast cancer resistance protein; HCO3–: bicarbonate; KCNN2: potassium calcium-activated channel subfamily N member 2
While flowing downstream the biliary tree, canalicular bile is modified by cholangiocytes through reabsorption of some bile components and the secretion of a bicarbonate-rich fluid. The continuous bile acid output across the canalicular membrane is followed by their efficient re-uptake by the intestine, mainly the ileum, and subsequent recovery from portal blood by hepatocytes through the also highly efficient sodium-dependent symporter Na+-taurocholate co-transporting polypeptide (NTCP), located at the basal (sinusoidal) plasma membrane of these cells [17, 18]. In humans, there is also a minor contribution to bile acid uptake by members of the organic anions transporting polypeptide (OATP) family, mainly OATP1B1 and OATP1B3 [19]. The daily fecal loss of bile acids from this enterohepatic circulation (≈ 5% of the total pool) is replaced by de novo synthesis from cholesterol of primary bile acids, mainly cholic acid (CA) and chenodeoxycholic acid (CDCA) [11, 12].
Obstructive cholestasis
The first consideration in classifying cholestasis is the anatomical location of its etiology. Extrahepatic cholestasis is due to a reduction of the lumen of the biliary ducts at any place of the extrahepatic biliary tree. The obstruction can be partial or complete depending on the relative magnitude of the obstacle vs. the duct diameter and its anatomical location, i.e., a) outside the duct (extraparietal), as it occurs, for instance, in patients suffering from tumors located in the head of the pancreas that compress the CBD; b) in the wall of the duct (parietal) due to scars or tumors; or c) in the lumen (intraluminal) due to gallstones. Very often, depending on the etiology and anatomical location, obstructive cholestasis tends to be almost complete, and surgical intervention to remove the obstacle is the recommended procedure. The most frequent etiological causes of these obstructions are gallstones, stenosis, atresia, parasitosis, choledochal cyst, ascending cholangitis, primary sclerosing cholangitis (PSC), secondary sclerosing cholangitis (SSC), and carcinoma of the pancreas or biliary tract. Some of them can also appear inside the liver, causing intrahepatic obstructive cholestasis, which often results in partial interruption of bile flow, except if the obstacle is located near the hepatic hilum.
Extrahepatic obstructive cholestasis
Choledocholithiasis is the most common cause of obstruction affecting extrahepatic bile ducts [20]. Regardless of gallstone composition, i.e., cholesterol (the most frequent ones) [21], biliary pigments, or mixed gallstones [22], the mechanical repercussions of the obstacle are similar in all extrahepatic obstructive cholestasis. Distal biliary stricture is a narrowing in the distal half of the extrahepatic bile duct that makes it difficult for bile to reach the duodenum [23]. Atresia is the cause of very aggressive neonatal cholestasis leading to the destruction and obliteration of the extrahepatic bile ducts in the first weeks of life [24]. In these patients, the onset of biliary fibrosis, which accompanies persistent cholestasis and the retention of biliary components, is very rapid [24].
Some parasitic infections are the cause of extrahepatic cholestasis. For instance, Echinococcus granulosus, a species of tapeworm that induces the formation of hydatid cysts in the liver, often causes compression of the bile ducts and can lead to more severe complications due to biliary tree lesions with increased risk of duct rupture [25]. Fasciola hepatica infects humans only accidentally, as this parasite has livestock as its usual hosts [25]. When reaching the liver, nonspecific biliary tree dilatation together with decreased bile flow appears. Ascaris lumbricoides, usually residing in the small intestine of infected hosts, can migrate through the ampulla of Vater upward to the CBD and cause obstructive jaundice along with episodes of biliary colic [26].
Choledochal cyst is a rare manifestation of hepatobiliary fibropolycystic disease [27]. This is due to malformations during embryonic development of the ductal plate, causing excessive proliferation of the biliary epithelium. As a consequence, fibrogenesis is activated, and fluid-filled cystic spaces in the liver parenchyma and bile ducts are formed, which are also accompanied by gallstones. Altogether, these factors can contribute to hindering the normal bile flow toward the duodenum [27].
Ascending cholangitis is a fatal condition caused by ascending bacterial infection reaching the biliary tree from the small intestine [28]. Choledocholithiasis is the leading predisposing cause because the presence of gallstones impairs the flushing function of bile flow, hence favoring the ascending infection, which leads to inflammation and partial or complete CBD obstruction [28].
Pancreatic carcinoma is one of the most aggressive tumors. Most patients develop obstructive jaundice due to the obliteration of extrahepatic bile ducts caused by the local compression of the tumor mass [29]. The highest probability of CBD obstruction is associated with the localization of the tumor in the head of the pancreas. Benign (cholangiomas) or malignant [cholangiocarcinomas (CCAs)] tumor masses generated in the biliary tree can also obstruct the CBD if they are located at the perihilar region of the biliary tree, i.e., the area of confluence of intrahepatic ducts [30], or closer to the duodenum [31].
Intrahepatic obstructive cholestasis
Gallstones can also be found in the intrahepatic bile ducts and hence obstruct them. Moreover, liver tumors, such as intrahepatic CCA [32], can also obliterate intrahepatic ducts hindering normal bile flow. Intrahepatic pyogenic abscesses, i.e., accumulation of inflammatory cells, mainly neutrophils and tissue debris, commonly caused by bacterial or parasitic liver infections, can obstruct intrahepatic bile ducts [33].
Clonorchis sinensis and Opisthorchis viverrini are two species of food-contaminating liver flukes that infect bile ducts [34]. Besides intrahepatic biliary obstruction, these parasites induce a chronic inflammatory state that contributes to duct obliteration and produces oxidative DNA damage in the infected biliary epithelium favoring malignant transformation [34].
Cholestasis due to pathological events affecting hepatocytes and cholangiocytes
Intrahepatic non-obstructive cholestasis is caused by impaired bile formation due to loss of cellular function at specific subcellular levels or by global dysfunction of hepatocytes. In the case of intrahepatic cholestasis, either due to obstruction or hepatocellular impairment, the reduction in bile flow is commonly not complete because other non-obstructed routes could drain the bile from the biliary tree or not all hepatocytes are affected, respectively. Hence, usually, the hepatobiliary function is not entirely abolished. Consequently, surgical intervention is not the recommended treatment, except in cases where liver transplantation is the only option for these patients.
Cholestasis associated to cholangiopathies
Chronic diseases generated by cholangiocyte alterations are known as cholangiopathies. These can be caused by restricted damage to local cholangiocytes, genetic and epigenetic events, and posttranscriptional mechanisms, such as changes in protein expression due to microRNAs. Owing to the pivotal role of these cells in biliary physiology, cholangiopathies are accompanied by cholestasis. In some cases, such as in biliary atresia, the pathogenic mechanism accounting for cholestasis is obvious. However, in other cholangiopathies, the interference with bile flow is more complex [35].
Primary biliary cirrhosis (PBC) is characterized by nonsuppurative inflammation and destruction of the interlobular bile ducts. These patients, mainly women (90%) have reduced expression of the bicarbonate transporter SLC4A2 located at the apical membrane of cholangiocytes, which reduces their ability to carry out biliary bicarbonate secretion. This negatively impacts bile formation and reduces the protection of the bicarbonate umbrella against bile salt-induced toxicity in cholangiocytes [36].
In PSC, there is chronic inflammation affecting both intrahepatic and extrahepatic bile ducts. This results in strictures that account for the description of the disease as obliterative cholangitis. These changes cause hindered transit of bile through the biliary tree, hence intrahepatic and extrahepatic obstructive cholestasis and progressive liver dysfunction [37, 38].
SSC is clinically comparable to PSC, although it is caused by processes indirectly damaging the biliary tree, such as recurrent pancreatitis, bile duct neoplasms, and congenital anomalies of the biliary tree [39].
Cystic fibrosis (CF) is a systemic disease caused by mutations in the transmembrane conductance regulator gene (ABCC7) that encodes an ABC protein (CFTR) playing an essential role in chloride transfer across the apical membrane of different epithelial cells, including cholangiocytes. Thus, inactivating mutations account for CF, the most frequent autosomal recessive genetic disease in white people. The absence of functional CFTR causes water efflux abnormalities responsible for increasing the density of secretions in different tissues. In the liver, the only cells expressing CFTR are cholangiocytes. The lack of this protein at the apical membrane of cholangiocytes impairs water and bicarbonate secretion leading to cholestasis together with less alkaline bile [40].
Global hepatocyte dysfunction
In clinical practice, one common type of cholestasis is due to global impairment of liver parenchyma function, which can even be associated with the death of hepatocytes due to many different causes. Commonly, following liver injury, cell proliferation and tissue regeneration are induced and carefully controlled. However, this process requires the differentiation of proliferating cells into polarized hepatocytes to become active bile forming cells, which means that during this time, the liver ability to generate bile is reduced.
Subcellular hepatocyte damage
In some cases, the impaired hepatocyte secretory function is associated with specific changes in subcellular compartments (e.g., peroxisomes) or mechanisms (metabolic pathways), resulting in cellular dysfunction and hence directly or indirectly alteration of canalicular bile formation.
Experimental models to study cholestasis
In the search for a better understanding of the physiology and pathophysiology of the biliary function, several experimental models have been used over the last decades [128]. Without any doubt, the most popular and ancient one is BDL, firstly carried out by Malpighi in cats in 1687 and more recently incorporated into modern experimental physiology by Cameron and Oakley [129]. Commonly performed in rats and less frequently in mice, BDL mimics complete extrahepatic obstructive cholestasis. The Mdr2–/– mouse has often been used as an experimental model mimicking PSC. Its popularity is based on its high reproducibility and ease of handling, advantages to which must be added that it is a very well-characterized model characterized by numerous studies carried out by many different groups [130]. Other models intend to cause progressive liver damage with accompanying cholestasis by administration of either 3,5-diethoxycarbonyl-1,4-dihydrocollidine (DDC), 2,4,6-trinitrobenzene sulfonic acid (TNBS) or lithocholic acid (LCA) [128]. Besides, several genetic manipulations have been carried out to generate animal models suitable to study PBC. Among these attempts, several mice models, such as NOD.c3c4, IL-2Rα–/–, dnTGFβRII, Scurfy, Ae2a,b–/–, ARE-Del–/–, and MRL/lpr have been developed. Their characteristics and advantages have been recently gathered in a helpful review on this issue [128].
Conclusions
Impaired bile flow from the canalicular lumen to the duodenum is a common feature in a large variety of hepatopathies. Cholestasis can be either the consequence of altered function and structure affecting the liver parenchyma and the biliary tree or the primary cause of several liver diseases. The development of more modern and sophisticated technologies regarding metabolomic, proteomic, and genomic analyses has permitted the identification of the etiology of cholestatic disease previously diagnosed as idiopathic. Moreover, the possibility to advance in our understanding of the pathogenic mechanism has fostered the investigation in search of more efficient and selective therapeutic strategies aimed at either correcting the underlying dysfunction, ameliorating the collateral alterations, which can prevent further life-threatening liver damage, or at least, improving the quality of life of these patients. The current understanding and the expected advances in this field permit us to be optimistic about the possibility of carrying out better personalized pharmacological or gene therapy-based treatments of cholestasis in the near future.
Abbreviations
| | |
| --- | --- |
| A1AT: | α1-antitrypsin |
| A1ATD: | α1-antitrypsin deficiency |
| ABC: | ATP-binding cassette |
| AE2: | anion exchange protein 2 |
| AIH: | autoimmune hepatitis |
| ALP: | alkaline phosphatase |
| ALT: | alanine aminotransferase |
| AMAs: | antimitochondrial antibodies |
| AST: | aspartate aminotransferase |
| BDL: | bile duct ligation |
| BRIC: | benign recurrent intrahepatic cholestasis |
| BSEP: | bile salt export pump |
| CBD: | common bile duct |
| CFTR: | cystic fibrosis transmembrane conductance regulator |
| DJS: | Dubin-Johnson syndrome |
| EPP: | erythropoietic protoporphyria |
| ER: | endoplasmic reticulum |
| FECH: | ferrochelatase |
| FIC1: | familial intrahepatic cholestasis type 1 |
| FXR: | farnesoid X receptor |
| GGT: | γ-glutamyltransferase |
| MDR1: | multidrug resistance protein 1 |
| MRP2: | multidrug resistance-associated protein 2 |
| NTCP: | Na+-taurocholate co-transporting polypeptide |
| OATP: | organic anions transporting polypeptide |
| PBC: | primary biliary cirrhosis |
| PEX: | peroxisomal biogenesis factor or peroxin |
| PFIC: | progressive familial intrahepatic cholestasis |
| PPIX: | protoporphyrin IX |
| PSC: | primary sclerosing cholangitis |
| TJPs: | tight junction proteins |
| TJs: | tight junctions |
| TPN: | total parenteral nutrition |
| UDCA: | ursodeoxycholic acid |
| USP53: | ubiquitin 53-specific peptidase |
References