Abstract
Several metabolic pathways are involved in the biotransformation of C27 neutral cholesterol to C24 primary bile acids (BAs), mainly cholic acid (CA) and chenodeoxycholic acid (CDCA), which are then conjugated with glycine or taurine. This process can start with the modification of the steroid ring or the shortening of the side chain and involves enzymes present in different subcellular compartments. Inborn errors affecting the biogenesis of organelles, such as peroxisomes, or the expression or function of specific enzymes of these convergent routes result in: i) the lack of mature C24-BAs, with the subsequent impairment in digestion and absorption of dietary fat and liposoluble vitamins, such as vitamin K, which may account for a deficient hepatic synthesis of several coagulation factors; ii) the accumulation of intermediate metabolites, which may affect hepatocyte physiology, causing cholestasis as a commonly shared alteration besides other deleterious hepatic events; and iii) extrahepatic clinical manifestations due to accumulation of toxic metabolites in other territories, such as the nervous system, causing neurological disorders. In general, diseases whose primary alteration is a genetic defect in BA synthesis are diagnosed in children or young individuals with a very low incidence. The symptomatology can markedly vary among individuals, ranging from mild to severe conditions. Oral therapy, based on the enrichment of the BA pool with natural C24-BAs, such as CA, CDCA, glyco-CA, or ursodeoxycholic acid (UDCA), depending on the exact deficiency causing the disease, may be beneficial in preventing life-threatening situations. In contrast, in other cases, a liver transplant is the only option for these patients. This review describes the updated information on the genetic and molecular bases of these diseases and the current approaches to achieve a selective diagnosis and specific treatment.
Keywords
Bile acid, cholestasis, genetic disorders, hepatitis, inborn errors, liver failure, metabolism
Introduction
Inborn errors in bile acid (BA) synthesis constitute a group of infrequent genetic disorders with an autosomal recessive transmission. Altogether, they are responsible for up to 2% of persistent cholestasis in children [1]. Although there is no consensus to define rare diseases, for instance, in the European Union these are defined as those that affect no more than 1 in 2,000 individuals while in the United States rare diseases are included in this group if they affect fewer than 200,000 people in the whole country, inborn defects in BA synthesis are globally considered rare diseases.
The most common clinical presentation is cholestasis which develops progressively in childhood, although other clinical settings may also occur, such as neonatal hepatitis and advanced cirrhosis at birth. Cases of cholestasis development in late childhood or even adult-onset of liver disease have been described [2]. The severity of the conditions varies from mild to severe or even life-threatening, depending on the specific enzyme affected and the magnitude of the defect. Failure to synthesize BAs leads to reduced bile flow and decreased intestinal solubilization and absorption of fat and fat-soluble vitamins, resulting in steatorrhea and fat-soluble vitamin deficiency. When the alteration leads to an accumulation of monohydroxylated BAs or unsaturated oxo-BAs, many of which are toxic and potent cholestatic agents, the progression of liver damage is usually rapid [3].
The diagnosis of these disorders is based on the analysis of the profile of BA molecular species and their precursors in body fluids by using mass spectrometric techniques, such as liquid chromatography coupled with tandem mass spectrometry (LC-MS/MS) [4, 5] and liquid secondary ionization mass spectrometry [6]. The most common biochemical findings in patients with BA synthetic defects are: i) the marked reduction or complete lack of primary BAs, cholic acid (CA), and chenodeoxycholic acid (CDCA), in serum, bile, and urine, and ii) the presence of elevated concentrations of atypical BAs and intermediate metabolites that retain the structure of the substrates that the deficient enzyme should have biotransformed. Confirmation of the genetic defect is usually achieved by DNA sequencing.
Early diagnosis is critical since many of these patients respond well to oral treatment with BA sequestering resins, such as cholestyramine, but especially with natural BAs, such as CA, glycocholic acid (GCA), CDCA, or ursodeoxycholic acid (UDCA, Figure 1). BA replacement therapy has a dual objective. On the one hand, it is to provide the essential absent primary BAs necessary for the digestion of fats and fat-soluble vitamins. On the other hand, the aim is to suppress the endogenous synthesis of these molecules, thus reducing the formation of abnormal potentially toxic intermediate metabolites. BA therapy is lifelong for responsive conditions. In these cases, the patient's adherence should be periodically evaluated.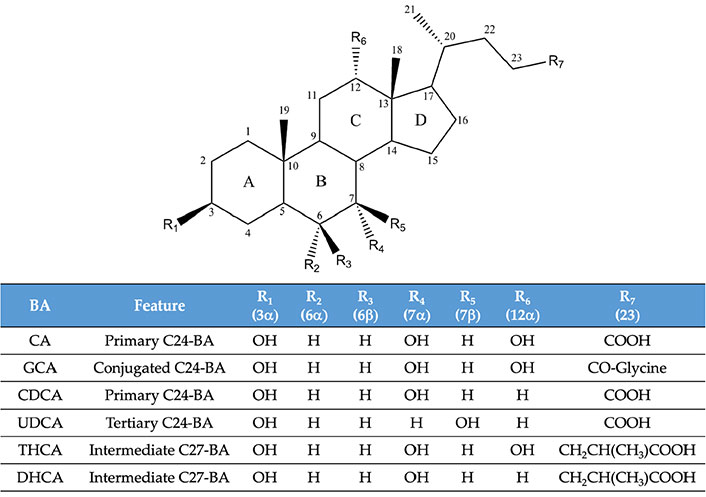 Molecular structure of some of the bile acid (BA) species mentioned in the text. DHCA: 3α,7α-dihydroxy-5β-cholestanoic acid; THCA: 3α,7α,12α-trihydroxy-5β-cholestanoic acid
Regarding the existence of animal models for the study of these diseases, several murine strains have been generated and characterized (Tables 1 & 2). In general, with a few exceptions, these models only partially reproduce the features of the human condition. The differences are mainly accounted for by the dissimilarity in BA pool composition and metabolism between humans and rodents [7, 8].
Inborn defects in BA synthesis: sterol nucleus modifications
| Gene | Protein | Clinical features | Treatment | Ref. | Animal models |
| --- | --- | --- | --- | --- | --- |
| CYP7A1 | CYP7A1 | No signs of liver damage, hypercholesterolemia, hypertriglyceridemia, gallstone disease | N.D. | [24] | [25–28] |
| HSD3B7 | HSD3B7 | Neonatal cholestasis, cirrhosis, malabsorption of fats and fat-soluble vitamins | CA, CDCA | [32, 33, 36] | [35] |
| AKR1D1 (SR5B1) | AKR1D1 | Neonatal hepatitis, cirrhosis, liver failure | CA, CDCA | [37, 40] | [38] |
| CYP7B1 | CYP7B1 | Severe neonatal liver disease, cholestasis, fibrosis, cirrhosis | CDCA, Liver transplantation | [43, 46, 47] | [44] |
Display full size
AKR1D1: Δ4-3-oxosteroid-5β-reductase; BA: bile acid; CYP7A1: cholesterol 7α-hydroxylase; CYP7B1: oxysterol 7α-hydroxylase; HSD3B7: 3β-hydroxy-Δ5-C27-steroid-oxidoreductase; N.D.: not defined
Inborn defects in BA synthesis: side chain shortening and conjugation
| Gene | Protein | Clinical features | Treatment | Ref. | Animal models |
| --- | --- | --- | --- | --- | --- |
| CYP27A1 | CYP27A1 | Children: neonatal cholestasis, diarrhea, cataracts, growth retardationAdults: xanthomas, neuropsychiatric symptoms (ataxia, dementia) | CDCA | [48, 54] | [50–53] |
| PEX | Several peroxisomal proteins | Liver dysfunction, neurological abnormalities, hearing and vision impairment, adrenocortical dysfunction | Symptomatic or supportive therapies | [56, 57] | [58–60] |
| ABCD3 | PMP70 | Hepatic dysfunction, hepatosplenomegaly | N.D. | [61] | [61, 87] |
| AMACR | AMACR | Children: malabsorption of fat-soluble vitamins, coagulation disorders, cholestasis, hepatitisAdults: sensory and motor degenerative neuropathy | CA | [63–66] | [67] |
| ACOX2 | ACOX2 | Hypertransaminasemia and severe hepatic and neurological alterations | CholestyramineUDCA | [69–72] | [73, 74] |
| HSD17B4 | DBP | Hypotonia, delayed growth and psychomotor development, visual and auditory defects. Hepatomegaly, fibrosis | N.D. | [75] | [76, 77] |
| SCP2 | SCPx | Fertility abnormalities. Brain lesions with motor disorders | Phytanic acid-restricted diet | [78, 79] | [80] |
| SLC27A5 | BACS | No signs of liver disease | N.D. | [81] | [82, 83] |
| BAAT | BAAT | Neonatal cholestasis. Malabsorption of fat-soluble vitamins. Rickets | GCA | [84, 86] | [85] |
Display full size
ABCD3: ATP-binding cassette subfamily D member 3; ACOX2: acyl-coenzyme A (CoA) oxidase 2; AMACR: α-methyl acyl-CoA racemase; BA: bile acid; BAAT: BA CoA: amino acid N-acyl transferase; BACS: BA-CoA synthetase; CYP27A1: sterol 27-hydroxylase; DBP: D-bifunctional protein; PEX: peroxisomal biogenesis factor or peroxin; PMP70: peroxisomal membrane protein 70; SCP2: sterol carrier protein 2
BA biosynthesis pathways
Biosynthesis of primary BAs from cholesterol involves at least 17 enzymes, one or more intracellular transporters, and different subcellular compartments, including endoplasmic reticulum, mitochondria, peroxisomes, and cytosol. Four main pathways of BA biosynthesis have been described: the classic or neutral pathway, the alternative or acidic pathway, the Yamasaki pathway, and the 25-hydroxylation pathway.
Inborn errors in the transformation of the sterol nucleus
Up to now, four inborn errors affecting the enzymes involved in transforming the cholesterol ring during BA biosynthesis have been identified (Table 1, Figure 2).
Defects in cholesterol side chain shortening
Altered shortening of cholesterol side chain to biotransform C27 steroid molecules to mature C24-BAs can be due to dysfunctional organelles or specific enzymes involved in the cleavage process (Table 2).
CYP27A1
Deficient mitochondrial CYP27A1 activity (OMIM: 213700) causes CTX, a rare autosomal recessive lipid storage disease. Its clinical manifestations in affected children include neonatal cholestasis, diarrhea, cataracts, and growth retardation. The situation worsens in adults with the onset of xanthomas and neuropsychiatric symptoms such as ataxia and dementia [48]. This alteration is characterized by a deficit of BAs and a deposit of cholesterol and cholestanol in different tissues. The blockade of the neutral pathway at this level generates an accumulation of 5β-cholestane-3α,7α,12α-triol, which is diverted through the 25-hydroxylation route for its biotransformation into CA [19]. However, this alternative pathway cannot entirely compensate for the lack of CYP27A1-mediated side chain shortening for C24-BA production. Hence, bile alcohols are generated and accumulated, which is a helpful plasma biomarker for the diagnosis of this disorder [49]. On the contrary, mice lacking CYP27A1 show a milder phenotype with lower accumulation of oxysterols and BA intermediates, probably due to a more active 25-hydroxylation pathway in this species [50, 51]. Consistently, these animals do not develop metabolic and neurologic CTX-related pathological abnormalities [52, 53]. The treatment of CTX patients with CDCA restores normal C24-BA levels and decreases those of cholestanol and bile alcohols, thus preventing severe clinical symptoms if the treatment is started early enough [54].
Peroxisomal defects
Peroxisomes are involved in many cellular functions, e.g., long-chain fatty acid β-oxidation, pipecolic and phytanic acid oxidation, synthesis of plasmalogens, cholesterol, BAs, and regulation of the oxidation-reduction status. Therefore, disorders accounting for impaired peroxisome biogenesis or specific defects in any particular peroxisomal enzyme involved in these metabolic pathways lead to the accumulation of various metabolites, which may be deposited in several tissues, consequently causing pathophysiological alterations [55]. These defects affecting BA metabolism are described below.
Defects in amidation
Conjugation of the C24-BAs with the amino acids glycine and taurine is the final step of BA synthesis by hepatocytes. This process requires the sequential action of two enzymes, BACS (encoded by SLC27A5), essential for re-conjugation of BAs deconjugated by gut bacteria, and BAAT (encoded by BAAT). Firstly, BACS catalyzes the activation of BAs via the formation of BA-CoA thioesters, which are needed for the glycine or taurine addition to BAs, a reaction catalyzed by BAAT [9]. Inborn errors affecting these two enzymes have been reported (Table 2).
BACS
So far, the only patients described with deficiency concerning BACS activity were two sisters carrying a homozygous mutation in the SCL27A5 gene. Although both girls had a similar abundance (85%) of unconjugated BAs in plasma and urine, only one of them developed liver disease. The reason for this discrepancy likely was that in the patient with more severe manifestations, BACS deficiency coexisted with another homozygous deleterious mutation in the ABCB11 gene, encoding the bile salt export pump (BSEP), which plays an essential role in the canalicular secretion of BAs. In contrast, her sister was heterozygous for this mutation [81]. Mice lacking BACS show a high proportion of unconjugated BAs in bile, without signs of disease. However, these animals do no gain extra weight when fed with a high-fat diet [82, 83].
BAAT
In ten pediatric patients harboring a lack of enzymatic activity in BAAT (OMIM: 619232), this deficiency caused malabsorption of fat-soluble vitamins and increased prothrombin time. The rest of the clinical manifestations showed marked interindividual variability. Thus, neonatal cholestasis ranged from mild to very severe, with liver transplantation being necessary for one of the patients who developed biliary cholangiopathy, eventually leading to cirrhosis and liver failure. Data obtained from the liver biopsy of several of these patients showed idiopathic neonatal hepatitis with ductular proliferation and fibrosis. In addition, four patients suffered from rickets because of vitamin D deficiency. As could be expected, biochemical signs included the absence of glyco- and tauroconjugated BAs in plasma, urine, and bile, where unconjugated CA was the most abundant BA [84]. BAs in the liver of BAAT-deficient mice are mostly unconjugated. As a response to facilitate their detoxification, BA polyhydroxylation is markedly enhanced. These mice also display defective body weight gain [85]. The similarity in the BA pattern of patients with BAAT or BACS deficiency determines that the only way to discriminate between both disorders is through genotyping or immunolabeling analysis of liver tissue obtained by biopsy. Therapy based on the oral administration of conjugated CA (GCA) has improved growth rate and fat-soluble vitamin absorption in patients with BA amidation defects [86].
Conclusions and perspectives
The general conclusion of this review is that, in patients with the clinical characteristics described above, after ruling out the presence of more frequent pediatric liver diseases, the existence of an inborn error in BA metabolism must be elucidated. Despite the difficulty in discriminating between different types of cholestatic conditions associated with these rare genetic defects, it is evident that a crucial goal in the diagnosis of these patients is to identify the exact cause of the failure in this aspect of liver function as soon as possible. An accurate and early diagnosis will direct the specific pharmacological treatment, which can prevent the progression to more severe stages of liver damage. Fortunately, the advance in analytical techniques such as LC-MS/MS to determine BA profiles, particularly measuring in a sensitive manner these rare and less abundant species in the serum of normal individuals, and available sequencing methods to identify the underlying genetic defect permit us to carry out a rapid and helpful screening among patients with typical clinical manifestations and biochemical signs of cholestasis and liver damage.
Abbreviations
| | |
| --- | --- |
| ABCD3: | ATP-binding cassette subfamily D member 3 |
| ACOX2: | acyl-coenzyme A oxidase 2 |
| AKR1C4: | 3α-hydroxysteroid-dehydrogenase |
| AKR1D1: | Δ4-3-oxosteroid-5β-reductase |
| AMACR: | α-methyl acyl-coenzyme A racemase |
| BAAT: | bile acid coenzyme A: amino acid N-acyl transferase |
| BACS: | bile acid-coenzyme A synthetase |
| BAs: | bile acids |
| CA: | cholic acid |
| CDCA: | chenodeoxycholic acid |
| CoA: | coenzyme A |
| CTX: | cerebrotendinous xanthomatosis |
| CYP27A1: | sterol 27-hydroxylase |
| CYP7A1: | cholesterol 7α-hydroxylase |
| CYP7B1: | oxysterol 7α-hydroxylase |
| CYP8B1: | sterol 12α-hydroxylase |
| DBP: | D-bifunctional protein |
| DHCA: | 3α,7α-dihydroxy-5β-cholestanoic acid |
| GCA: | glycocholic acid |
| GGT: | gamma-glutamyl transpeptidase |
| HSD3B7: | 3β-hydroxy-Δ5-C27-steroid-oxidoreductase |
| OMIM: | Online Mendelian Inheritance in Man |
| PEX: | peroxisomal biogenesis factor or peroxin |
| PMP70: | peroxisomal membrane protein 70 |
| SCP2: | sterol carrier protein 2 |
| THCA: | 3α,7α,12α-trihydroxy-5β-cholestanoic acid |
| UDCA: | ursodeoxycholic acid |
| UGT1A3: | uridine-diphospho glucuronosyltransferase family 1 member A3 |
| X-ALD: | X-linked adrenoleukodystrophy |
| ZSDs: | Zellweger spectrum disorders |
References