Abstract
The pathophysiological mechanisms underlying the close relationship between nonalcoholic fatty liver disease (NAFLD) and type 2 diabetes mellitus (T2DM) are multiple, complex and only partially known. The purpose of this paper was to review the current knowledge of these mechanisms in a unified manner. Subjects with NAFLD and T2DM have established insulin resistance (IR), which exacerbates the two comorbidities. IR worsens NAFLD by increasing the accumulation of free fatty acids (FFAs) in the liver. This occurs due to an increase in the influx of FFAs from peripheral adipose tissue by the activation of hormone-sensitive lipase. In addition, there is de novo increased lipogenesis, a transcription factor, the sterols regulatory element-binding transcription factor 1c (SREBP-1c), which activates the expression of several genes strongly promotes lipogenesis by the liver and facilitate storage of triglycerides. Lipids accumulation in the liver induces a chronic stress in the endoplasmic reticulum of the hepatocytes. Genome-wide association studies have identified genetic variants associated with NAFLD severity, but unrelated to IR. In particular, the alteration of patatin-like phospholipase domain-containing protein 3 contributes to the susceptibility to NAFLD. Furthermore, the lipotoxicity of ceramides and diacylglycerol, well known in T2DM, triggers a chronic inflammatory process favoring the progression from hepatic steatosis to steatohepatitis. Reactive oxygen species produced by mitochondrial dysfunction trigger both liver inflammation and beta-cells damage, promoting the progression of both NAFLD and T2DM. The close association between NAFLD and T2DM is bidirectional, as T2DM may trigger both NAFLD onset and its progression, but NAFLD itself may contribute to the development of IR and T2DM. Future studies on the mechanisms will have to deepen the knowledge of the interaction between the two pathologies and should allow the identification of new therapeutic targets for the treatment of NAFLD, currently substantially absent.
Keywords
Nonalcoholic fatty liver disease, non-alcoholic steatohepatitis, insulin resistance, type 2 diabetes mellitus, adipokines
Introduction
Non-alcoholic fatty liver disease (NAFLD) and type 2 diabetes mellitus (T2DM) could be considered two sides of the same coin. NAFLD is currently the most widespread liver disease in the world and is the most common among patients with T2DM [1]. A recent meta-analysis showed that patients with NAFLD have a risk of developing T2DM at least twice as high as those without NAFLD and that patients with "severe" NAFLD had an even greater risk of developing T2DM [2].
NAFLD encompasses a broad spectrum of diseases, from pure hepatic steatosis in the absence of inflammation, to non-alcoholic steatohepatitis (NASH), liver cirrhosis and potentially hepatocellular carcinoma (HCC) [3, 4].
We currently know that metabolic hepatic steatosis is a phenotype that recognizes diverse and complex causes and a wide spectrum of clinical severity, as well as considerable inter-patient variability and, therefore, the NAFLD terminology used to identify the disease it is generic and includes numerous subtypes. The acronym NAFLD therefore seems obsolete and does not reflect the current knowledge on the pathology, on the diagnostic criteria, on the lack of consideration of the different risk profiles and on the difficulty of interpreting the response to the treatments. A consensus has recently been reached among a group of experts who proposed replacing the acronym "NAFLD" with "MALFD", "metabolic-dysfunction-associated fatty liver disease" as a more appropriate general term [5]. The acronym MAFLD shifts the diagnosis criteria from an exclusion disease to an inclusion disease. Diagnosis is based on the recognition of metabolic abnormalities with the acceptance that MAFLD can coexist with other conditions. The metabolic abnormalities proposed are liver steatosis diagnosed either by histology, imaging or blood markers, and at least one among the following: overweight/obesity, T2DM or evidence of metabolic syndrome (MS) [5]. Insulin resistance (IR) appears to be the main physiopathological link between NAFLD and T2DM [6]. Both NAFLD and T2DM patients share the same qualitative and quantitative multi-organ IR patterns, affecting not only glucose metabolism but also fatty acids and amino acid metabolism that is typical of the patient with overt T2DM [7]. In fact, it has been known for years how MS may underpin both NAFLD and T2DM. IR appears to explain many of the MS-related conditions, including NAFLD and T2DM [8]. This hypothesis is tempting, but too simplistic and reductive, since NAFLD also occurs in lean and non-diabetic individuals [9]. Therefore, NAFLD cannot be explained by IR alone, as other factors such as lipid function, mitochondrion, innate immunity, gut microbiota, genetic determinants, nutritional factors and lifestyle are involved in the development of the disease [10–12].
In any case, the close epidemiological association between the two conditions appears unequivocally clear. Over 70% of T2DM patients also have NAFLD [13, 14] and up to 20% of T2DM patients also have overt hepatic fibrosis [15–17]. Furthermore, the data show that the association between NAFLD and T2DM is a prognostic poor condition, as it carriers a high risk of mortality from liver cirrhosis and HCC [18, 19].
As already mentioned, the pathophysiological thread of this process is mutual. Patients with liver cirrhosis are in fact characterized by profound alterations in insulin-mediated glucose metabolism [20], which leads to impair glucose tolerance in 60–80% of cases, and overt diabetes in 10–20% of patients [21–23].
At the same time, T2DM patients may also exhibit a continuum of liver damage, ranging from a simple increase in circulating levels of liver enzymes, up to liver cirrhosis, HCC and liver failure. T2DM not only increases the risk of NAFLD, but the reverse is also true, with all the mutual complications and a reduced prognosis. Based on epidemiological and pathophysiological observations, a close association emerges between T2DM and NAFLD, with diabetes negatively affecting both severity and progression of NAFLD, and NAFLD increasing the risk of developing T2DM and its cardiovascular and renal complications [24, 25]. Therefore, a combined approach is needed to explain the pathophysiological basis of these two conditions.
Therefore, NAFLD and T2DM cannot be dissociated, due to the double thread that binds them. On the one hand, this relationship is supported by IR, whereby not only does one influence the other, but also its mechanisms exasperate and enhance the other, causing these two entities to make the same coin.
Currently, as schematized in Figure 1 the pathophysiological mechanisms underlying the close relationship between NAFLD and T2DM are multiple, complex and only partially clarified. Therefore, the purpose of this review was to make an in-depth and unitary analysis of the current knowledge of these mechanisms.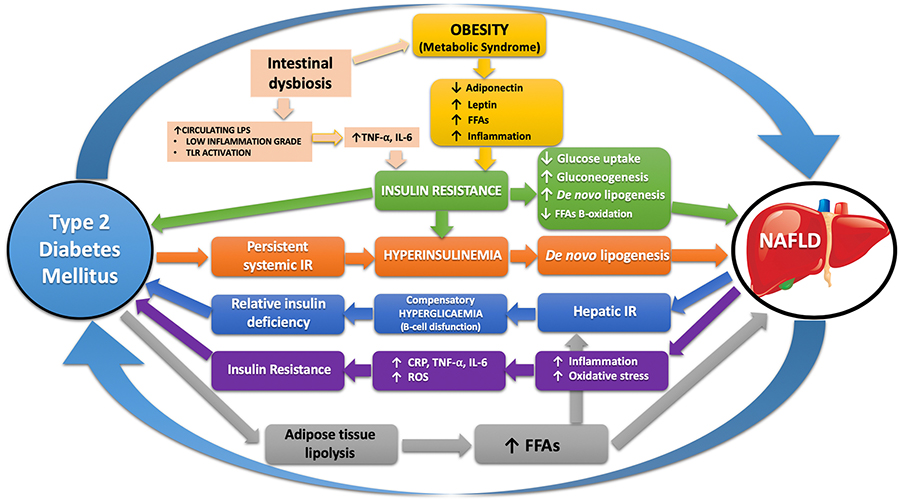 Schematic representation of the pathophysiological mechanisms shared between NAFLD and T2DM that connect the two sides of the coin. LPS: lipopolysaccharides; CRP: C reactive protein; TNF-α: tumor necrosis factor; IL-6: inteleukine-6; ROS: reactive oxygen species; TLR: toll like receptor
How T2DM affects NAFLD?
How T2DM affects NASH
NAFLD enhances T2DM development
The close association between NAFLD and T2DM is evident and surprisingly it is their bidirectionality. Hence, NAFLD contributes onset to the development of IR in T2DM. Some studies [2, 136, 137] have reported an association between the presence of NAFLD and an increased risk of developing T2DM (2.4–3.5 times higher). Therefore, a diagnosis of hepatic steatosis could be a risk factor for the onset of T2DM, assuming that NAFLD may anticipate the diagnosis of T2DM [136, 137]. Patients with NAFLD exhibit impaired glucose metabolism compared to non-NAFLD subjects, which represents an independent risk factor for development of T2DM [138]. Patients with NASH, diagnosed by biopsy, were shown to have a 3-folds higher risk of developing T2DM or impaired glucose tolerance [132] and progression to liver fibrosis and cirrhosis was much more evident in patients with IR [139].
Furthermore, transplanted fatty liver have been shown to be a risk factor for the development of post-transplant T2DM, although it is not known how many of these donors had pre-transplant NASH [140].
A retrospective cohort study of approximately 400 NAFLD patients diagnosed with liver biopsy, without diabetes at baseline and followed for a mean time of 18.4 years, reported a higher incidence of T2DM in patients with severe fibrosis (stages 3–4) compared to those with mild fibrosis (stages 1–2) [141].
Mechanisms underlying NAFLD-induced T2DM include several mediators, such as lipotoxicity, inflammation and oxidative stress.
In addition to T2DM, prediabetes, an intermediate stage between normal glucose tolerance (NGT) and T2DM, is also associated with NAFLD. Prediabetes is associated with portal inflammation and liver fibrosis in NAFLD patients. Yilmaz et al. [142], showed that in patients with NAFLD, portal inflammation and fibrosis were significantly more severe in pre-diabetic subjects than those with NGT, while diabetic patients had much more severe portal inflammation and fibrosis. Those with prediabetes share the same pathophysiological mechanisms as T2DM, i.e. IR as the main dysfunction. It is also been reported that almost 10% of NAFLD and pre-diabetes patients will develop T2DM [143, 144].
That's not all IR what glitters
It seems clear that IR, by itself, cannot explain the complex bidirectional relationship between NAFLD and T2DM. First, numerous rodent models have developed liver steatosis without IR, albeit rather due to the inhibition of VLDL efflux by MCD diet [145], an increased in fatty acids storage by DGAT overexpression [146] and inhibition of triglycerides hydrolysis by CGI-58 knockdown (a triglycerides lipase activator) [147].
Furthermore, studies on human genetic polymorphisms have reported that several genes associated with steatosis are not related to IR. Among these, we find the adipose triglycerides lipase, CGI-58, PNPLA3, etc. [148]. For example, a human variant of the PNPLA3 gene increases hepatic lipids content without inducing IR. Interestingly, significant differences were found in hepatic lipid composition compared to a group with similar but insulin resistant steatosis and NASH. In detail, in the IR group the lipids were abundant in ceramides, saturated and mono-unsaturated triglycerides, while the lipids in the PNPLA3 group were rich in poly-unsaturated fats. These results underline that the type of lipids accumulated in the liver is much more important for altering insulin signaling than for lipid accumulation itself [128]. This difference in lipid profile could explain why only some populations with NAFLD are associated with a higher risk of T2DM.
As evidence that not all NAFLDs are associated with IR, 263 NAFLD patients were recently studied by liver biopsy, of which 53 (20.2%) had no evidence of IR. The latter had a lower BMI and fewer metabolic risk factors (MS, diabetes mellitus, hypertension, hyperlipidemia and waist circumference) and in any case hepatic histological damage [149]. However, liver histology showed that in subjects without IR there was less severe liver damage with a lower prevalence of NASH and fibrosis than in subjects with IR. Obesity has been shown to be an independent predictor of fibrosis in NAFLD patients without IR [149].
In conclusion, the relationship between NAFLD and T2DM is so tight and complex that it is difficult to distinguish which is the consequence and which the cause. T2DM provides with an optimal metabolic condition for NAFLD progression, while NAFLD may in turn promote the risk of T2DM. Both these pathological conditions share numerous common factors, which are more likely to be involved in the progression of the disease, including abundance of fatty acids, pro-inflammatory cytokines, oxidative stress, etc. A comprehensive view of the underlying mechanism of NAFLD and T2DM could shed light on future therapeutic choices for these diseases.
Conclusions
In conclusion, the relationship between NAFLD and T2DM is not only epidemiological, as evident especially in the context of MS, but above all pathophysiological. The study of these mechanisms will probably help to deepen the knowledge of the association between the two pathologies and, above all, will allow the definition of pharmacological targets for the treatment of NAFLD, which are still fundamentally absent today.
Abbreviations
| | |
| --- | --- |
| AGE: | advanced glycation end product |
| AMPK: | adenosine monophosphate activated protein kinase |
| APOC3: | apolipoprotein C3 |
| DAGs: | diacylglycerols |
| FFAs: | free fatty acids |
| FGF: | fibroblast growth factor |
| FXR: | farnesoid X receptor |
| G6P: | glucose-6-phosphatase |
| HCC: | hepatocellular carcinoma |
| IKK-β: | I-kappa-B kinase β |
| IL-6: | inteleukine-6 |
| IR: | insulin resistance |
| IRS: | insulin receptor substrate |
| MAFLD: | metabolic-dysfunction-associated fatty liver disease |
| MCD: | methionine- and choline-deficient diet |
| MS: | metabolic syndrome |
| NAFL: | nonalcoholic fatty liver |
| NAFLD: | nonalcoholic fatty liver disease |
| NASH: | non-alcoholic steatohepatitis |
| NF-kB: | nuclear factor kappa-light-chain-enhancer of activated B cells |
| PKB: | protein kinase B |
| PKC: | protein kinase C |
| PNPLA3: | patatin-like phospholipase domain-containing protein 3 |
| PPAR: | peroxisome proliferator-activated receptor |
| RANKL: | receptor activator of nuclear factor kappa-Β ligand |
| ROS: | reactive oxygen species |
| SREBP-1c: | sterol regulatory element-binding transcription factor 1c |
| T2DM: | type 2 diabetes mellitus |
| TNF-α: | tumor necrosis factor alpha |
| VLDL: | very low-density lipoproteins |
References