Abstract
Nonalcoholic fatty liver disease (NAFLD) is a serious condition that can lead to fibrosis, cirrhosis, and hepatocellular carcinoma. NAFLD is associated with metabolic syndrome (MetS) and all of its components. According to data, around 25–30% of population has NAFLD. Giving the growing incidence of MetS, obesity and diabetes mellitus type 2, NAFLD related terminal-stage liver disease is becoming prevailing indication for liver transplantation. In order to prevent terminal stage of this disease, it is crucial to determine those that are in risk group, to modify their risk factors and monitor their potential progression. In the absence of other causes of chronic liver disease, the prime diagnosis of NAFLD in daily clinical practice includes anamnesis, laboratory results (increased levels of aminotransferases and gammaglutamil transferases) and imaging methods. The biggest challenge with NAFLD patients is to differentiate simple steatosis from nonalcoholic steatohepatitis, and detection of fibrosis, that is the main driver in NAFLD progression. The gold standard for NAFLD diagnosis still remains the liver biopsy (LB). However, in recent years many noninvasive methods were invented, such as transient elastography (TE). TE (FibroScan®, Echosens, Paris, France) is used for diagnosis of pathological differences of liver stiffness measurement (LSM) and controlled attenuation parameter (CAP). Investigations in the last years have confirmed that elastographic parameters of steatsis (CAP) and fibrosis (LSM) are reliable biomarkers to non-invasively assess liver steatosis and fibrosis respectively in NAFLD patients. A quick, straightforward and non-invasive method for NAFLD screening in patients with MetS components is TE-CAP. Once diagnosed, the next step is to determine the presence of fibrosis by LSM which should point out high risk patients. Those patients should be referred to hepatologists. LB may be avoided in a substantial number of patients if TE with CAP is used for screening.
Keywords
Controlled attenuation parameter, liver stiffness measurement, non-alcoholic fatty liver disease, transient elastography
Introduction
Nonalcoholic fatty liver disease (NAFLD) is the most common chronic liver disease that affects around 25% of population. NAFLD is a broad spectrum of diseases that include simple fatty infiltration, nonalcoholic steatohepatitis (NASH), which is defined as the presence of fat leading to inflammatory damage to hepatocytes, fibrosis and finally cirrhosis. The importance of NAFLD lies in the possibility of its gradual progress to advanced fibrosis, cirrhosis, and hepatocellular carcinoma (HCC). Once that cirrhosis develops, it has all the clinical manifestations as cirrhosis of any other etiology. The pathophysiology is complex and involves multiple concurrent mechanisms, in the context of abnormal metabolic processes that arise mostly in individuals with risk factors. Co-morbidities associated with NAFLD include obesity, type 2 diabetes mellitus (T2DM), arterial hypertension and dyslipidemia, as traits of metabolic syndrome (MetS). Recently, attention has also been aimed at gut-liver axis as a part of the crucial role in this network of multiple interactions. Genetic background, diet and antibiotic usage are the main factors that can affect and alter intestinal microbiota. NAFLD cannot be distinguished from alcoholic liver disease histologically. Thus, to diagnose NAFLD underlying alcohol usage must be ruled out, as well as the absence of causes such as viral hepatitis or hereditary liver disease. Most patients are asymptomatic, although some may experience malaise, fatigue or abdominal discomfort in the right upper quadrant. While not specific or sensitive, elevated liver enzymes are often first sign of the disease. However, hepatomegaly and splenomegaly can be first sign in some cases. Noninvasive diagnostic tests, as abdominal ultrasound and transient elastography (TE), are usually sufficient for diagnosis, but liver biopsy (LB) remains the gold standard. In the management of NAFLD, it is important to identify those at risk, to modify their risk factors and monitor their potential progression. Treatment primary includes elimination of risk factors, including diet and lifestyle modification. In patients who fail to achieve the change in their lifestyle, pharmacological therapy is considered, and is mostly recommended on an individual basis [1–3]. Because of space limitations, this review will mainly focus on the detection of steatosis and fibrosis by TE with controlled attenuation parameter (CAP).
NAFLD and MetS
MetS is a clinical syndrome that includes obesity, dyslipidemia, arterial hypertension and T2DM [3]. NAFLD is strongly linked with all segements of MetS and it is in fact liver manifestation of MetS. The prevalence rates of NAFLD in patients with hypertension, hyperlipidemia, T2DM, and obesity are approximately 50%, 50–90%, 30–50%, and 80–90%, respectively [3]. Some authors are suggesting that NAFLD could be defined as a fifth component of the MetS [3]. Both conditions are related with insulin resistance (IR), the main pathogenetic factor underlying NAFLD and MetS. One-third of patients with NAFLD have MetS and 90% of NAFLD patients have at least one component of MetS [4–12]. On the other hand, this bidirectionality is not only limited to the incident of NAFLD and MetS; it also affects MetS components and disease severity [3]. NAFLD patients have a risk of developing arterial hypertension [hazard ratio (HR) = 1.07, 95% confidence interval (CI): 1.00–1.15 for mild steatosis; HR = 1.14, 95% CI: 1.00–1.30 for severe steatosis] and the risk of T2DM (twofold risk increase) [7, 13]. Depending on the number of MetS segments present, the risk of developing NAFLD and the severity of NAFLD are higher.
NAFLD is associated with obesity, specifically with abdominal obesity as a component of MetS [14, 15]. Abdominal fat overage is a fundamental determinant in NAFLD pathogenesis due to its association with IR and a possible source of free fatty acids (FFA) [16]. Visceral fat releases higher amounts of adipokines and excess of FFA into the portal vein, so the liver is susceptible to higher concentrations of FFA. In the liver in patients with NAFLD there is 59% of accumulated triacylglycerol which is obtained from circulating FFA [16]. Adipose tissue consists of adipocytes, vascular endothelial cells, mesenchymal cells and macrophages and is actually an endocrine organ that secretes adipokines. Adipocytes release leptin into circulation in response to changes in body weight. In obese patients with NAFLD leptin levels are elevated and that is directly related to the severity of steatosis [16].
Insulin function is impaired in patients with NAFLD and/or MetS. This results in hyperglycemia [16]. Abdominal obesity, as one of the central features of the MetS, is associated with increased release of inflammatory cytokines, such as tumor necrosis factor α (TNFα) and FFA, from visceral adipose tissue. Because of that, the accumulation of hepatic diacylglycerols and the activation of inflammatory pathways are promoted. Diacylglycerols activate protein kinase ε. It inhibits insulin signaling which leads to hepatic IR [17, 18].
The deregulation of insulin mediated control of hepatic production of glucose and lipids appears to be a main event in the development of NAFLD. Normally, insulin impairs gluconeogenesis while promoting lipogenesis. There is a paradoxical situation in NAFLD, especially in the context of T2DM. IR results in a reduced ability to inhibit gluconeogenesis, but insulin driven lipogenesis still occurs and is even enhanced [19–31].
Approximately half of patients with hypertension have NAFLD [22]. Numerous mechanisms have been proposed to explain the commencement of hypertension in MetS. The underlying cause of MetS is IR, which leads to increased sodium retention in the kidney, impaired vasodilation, and activation of the sympathetic part of the autonomic nervous system [15]. Impact on the development of hypertension in MetS patients also has increase in the secretion of leptin, resistin and angiotensin from adipose tissue, and hyperinsulinemia directly causes structural damage to the endothelium and its apoptosis [17].
Another component of MetS is dyslipidemia. According to the literature 62% of patients with NAFLD have elevated triglyceride levels and 54% have reduced high-density lipoprotein cholesterol (HDL-C) levels [29]. Usually, insulin has a role in reducing production of very-low-density lipoprotein (VLDL) through inhibiting lipolysis of adipose tissue and it reduces hepatic production of VLDL [30]. However, in those patients who have NAFLD, insulin role is diminished. Because of that there is an increase in serum triglycerides levels as well as decrease in HDL levels [31]. Proposed mechanism of pathophysiology regarding the MetS and steatosis development are shown in Figure 1.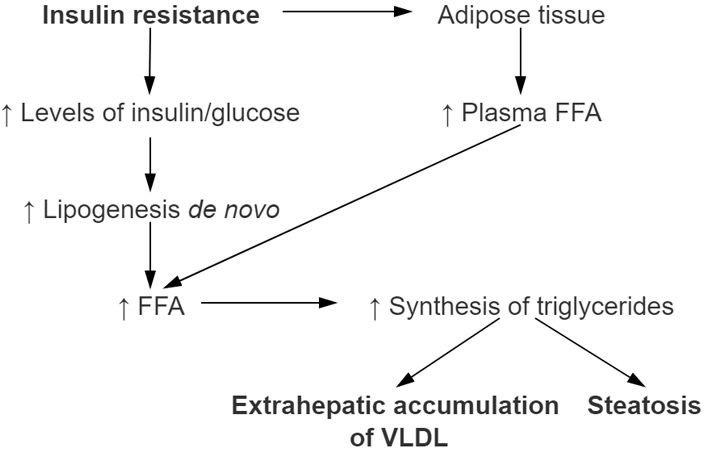 Development of nonalcoholic hepatic steatosis in relation with metabolic syndrome (MetSy). The main role in the development of nonalcoholic hepatic steatosis has IR which promotes higher concentration of FFA released in plasma. Therefore, more FFAs are then taken up by the liver. Increased dietary fat intake promotes increasing formation of 'de novo' synthesis of FFA in the liver as well. Increasing amount of FFA in the liver through process of esterification leads to increase of triglyceride synthesis. Steatosis of liver occurs when their accumulation occurs. HSL: hormone-sensitive lipase; TG: triglyceride; PPAR-γ: peroxisome proliferator-activated receptor gamma; SREBP-1: sterol regulatory element binding protein 1; PPAR-α: peroxisome proliferator-activated receptor α; CPT-I: carnitine palmitoyltransferase I; VLDL: very-low-density lipoproteins
Diagnosis of NAFLD
In everyday clinical practice, the initial diagnosis of NAFLD is based on anamnesis, laboratory findings (increased levels of aminotransferases and gammaglutamil transferases) and imaging methods in the absence of other causes of chronic liver disease. Key issues in NAFLD patients are the differentiation between simple steatosis, NASH and detection of fibrosis because that is the main driver in NAFLD progression [3, 32–34]. LB has been the gold standard to stage steatosis, inflammation and fibrosis in the liver for a long time. It is being used to assess patients with viral hepatitis (especially patients with hepatitis B or C virus infection), to determine stage of the disease and to decide if treatment should be pursued. The disadvantages of the LB are that it is an invasive test, patient must be hospitalized for half a day, it is expensive, and it is associated with some risks, such as pain and bleeding. Bleeding due to LB is rare, but it presents a significant risk when it occurs. Additionally, it samples only a small piece of the liver parenchyma and it can cause incorrect staging if taken sample is not representative of the rest of the liver. Consequently, this can lead to sampling error and that may lead to overstaging or understaging of fibrosis. Sampling error occurs in up to 25–30% of liver biopsies. Another disadvantage is that different pathologists can interpret the same sample differently. This can result in variations in liver disease staging [3, 33, 35]. Considering the data that around 25–50% of population has NAFLD, LB evaluation is nonpractical, and noninvasive methods for diagnosing NASH and fibrosis are needed [1]. The diagnosis of NAFLD represents a clinical challenge in everyday clinical practice since the majority of NAFLD patients are asymptomatic and aminotransferase are elevated in approximately 50% of NAFLD patients [3]. Therefore, a numerous laboratory test and biomarkers for steatosis, inflammation and fibrosis detection as well as imaging methods are intensively investigated in the last decade.
In the context of noninvasive methods there are two different approaches that although are different, their combination is useful in everyday clinical practice. First approach is "Biological". It is based on the quantification of biomarkers in serum samples [33]. And second, "Physical" approach is based on the measurement of liver stiffness. For the measurement of liver stiffness, we can use either ultrasound- or magnetic resonance-based elastography techniques [33].
Several steatosis scores such as hepatic steatosis index, NAFLD liver fat score and fatty liver index are used to detect or grade liver steatosis. A proportion of patients with simple steatosis will develop NASH. In the term of NASH, circulating keratin 18 fragments were analyzed to discriminate NASH from simple steatosis, and M30 was more intensively studied than M65 [33]. The most important risk factor for liver related and overall morbidity and mortality in NAFLD patients is liver fibrosis. There are a lot of serum markers that were investigated for fibrosis detection in various chronic liver diseases. Some of them, such as fibrosis-4 (FIB-4) or BARD score were originally designed to stage fibrosis in patients with viral hepatitis. On the other hand, NFS was initially designed to predict the fibrosis in NAFLD patients. Nowadays, the most investigated fibrosis biomarkers are NFS and FIB-4 [33]. Both FIB-4 and NFS scores are clinically useful to exclude, not predict, advanced fibrosis. In addition, both FIB-4 and NFS scores also have an acceptable clinical utility in the exclusion of advanced fibrosis in patients with diabetes and NAFLD [23, 24]. Hoverer, the practical advantages of serum biomarkers are their high applicability and their potential widespread availability (nonpatented), but most of this serum biomarker have a very good negative predictive value for excluding advanced fibrosis, but poor positive predictive value. This data is suggesting that serum biomarkers can be used to exclude advanced fibrosis and, prevent LB in patients without fibrosis. Also it is important to note that this markers are not liver-specific and their results can be influenced by comorbid conditions [33–39]. In conclusion, none of the currently accessible serum biomarkers can distinguish NASH from simple steatosis with high specificity and sensitivity, nevertheless, in combination with different approaches their diagnostic accuracy can be enhanced [37].
Conclusion
Elastographic parameters (CAP and LSM by FibroScan) are reliable biomarkers to non-invasively assess liver steatosis and fibrosis respectively in NAFLD patients. A quick, easy and non-invasive mass screening for NAFLD in patients with one or more MetS components may be rational approach with TE-CAP. Once NAFLD is diagnosed, the assessment of fibrosis by LSM should recognize high-risk patients that should be referred to hepatologists. If TE with CAP is used as a screening method, LB may accordingly be avoided in a considerable number of patients.
Abbreviations
| | |
| --- | --- |
| CAP: | controlled attenuation parameter |
| CI: | confidence interval |
| CKD: | chronic kidney diseases |
| CPT-I: | carnitine palmitoyltransferase I |
| CVD: | cardiovascular diseases |
| ELF: | enhanced liver fibrosis |
| F0: | no fibrosis |
| F1: | minimal fibrosis |
| F2: | moderate fibrosis |
| F3: | advanced fibrosis |
| F4: | severe fibrosis |
| FFA: | free fatty acids |
| FIB-4: | fibrosis-4 |
| HCC: | hepatocellular carcinoma |
| HR: | hazard ratio |
| HSL: | hormone-sensitive lipase |
| HVPG: | hepatic venous pressure gradient |
| IR: | insulin resistance |
| LB: | liver biopsy |
| LSM: | liver stiffness measurement |
| MetS: | metabolic syndrome |
| NAFLD: | nonalcoholic fatty liver disease |
| NASH: | nonalcoholic steatohepatitis |
| PPAR-α: | peroxisome proliferator-activated receptor α |
| PPAR-γ: | peroxisome proliferator-activated receptor γ |
| SREBP-1: | sterol regulatory element binding protein 1 |
| T2DM: | type 2 diabetes mellitus |
| TE: | transient elastography |
| TG: | triglyceride |
| VLDL: | very-low-density lipoproteins |
References