Abstract
Humans are afflicted by a wide spectrum of autoimmune disorders, ranging from those affecting just one or a few organs to those associated with more systemic effects. In most instances, the etiology of such disorders remains unknown; a consequence of this lack of knowledge is a lack of specific treatment options. Systemic lupus erythematosus (SLE) is the prototypic systemic autoimmune disorder; pathology is believed to be antibody-mediated, and multiple organs are targeted. Periods of disease "flares" are often followed by long periods of remission. The fact that SLE is more commonly observed in females, and also that it more particularly manifests in females in the reproductive age group, has quite naturally drawn attention to the potential roles that hormones play in disease onset and progression. This review attempts to shed light on the influences that key hormones might have on disease indicators and pathology. Databases (Google Scholar, PubMed) were searched for the following keywords (sometimes in certain combinations), in conjunction with the term "lupus" or "SLE": autoantibodies, recurrent abortion, polycystic ovarian syndrome (PCOS), preeclampsia, pre-term delivery, estrogens, progesterone, androgens, prolactin, leptin, human chorionic gonadotropin (hCG). Cited publications included both research articles and reviews.
Keywords
Autoimmune diseases, systemic lupus erythematosus, sex steroids, prolactin, leptin, human chorionic gonadotropin, reproductive dysfunction
Introduction
Systemic lupus erythematosus (SLE, or lupus) is a systemic autoimmune disorder that can affect many organs, including the skin, joints, the central nervous system, and the kidneys. With the exception of monogenic lupus, a complex interaction of inherent and environmental factors is believed to contribute to disease onset [1, 2]; some such factors are outlined in Figure 1.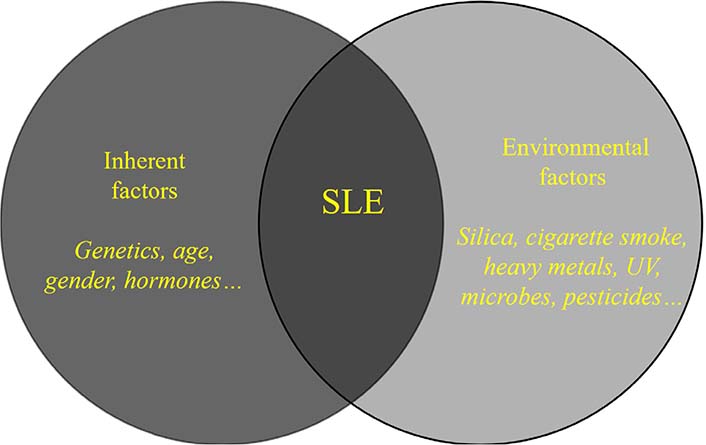 A complex interaction between inherent and environmental factors is believed to contribute to the onset of SLE in most instances. UV: ultraviolet light
SLE is characterized by aberrant activation of the innate and adaptive immune systems, causing the accumulation of autoantibodies and inflammatory immune cells [3]. More than a hundred different autoantibody specificities have been described in lupus; ribonucleoproteins [for example, Smith (Sm), Ro, La], nucleic acids [for example, double-stranded DNA (dsDNA)], and lipids are often targeted [4]. While several of the antibody specificities observed in lupus have been documented in other autoimmune diseases as well, antibodies against dsDNA and the Sm protein are characteristic of lupus [5]. Interestingly, some common autoantibody specificities (such as anti-nuclear, anti-Ro, anti-La, and anti-phospholipid antibodies) can be detected in serum many years before clinical onset, whereas others (like anti-dsDNA and anti-Sm antibodies) appear closer to the appearance of overt disease [6]. Several investigations have revealed evidence for the association of anti-dsDNA autoantibodies with glomerulonephritis, one of the most serious consequences of the disease [7].
SLE predominantly affects women in their reproductive years [8], prompting investigations into the role reproductive hormones play in disease onset and progression. A higher incidence of premature ovarian failure has been observed in SLE patients [9, 10], the precise reasons for which remain unknown. Interestingly, patients with polycystic ovarian syndrome (PCOS) express many of the antibodies found in SLE patients [11], prompting speculation that PCOS could have an autoimmune etiology. Higher rates of preeclampsia have been observed in SLE patients [12, 13]. Several recent reports indicate that pregnancies in SLE patients are also characterized by a higher incidence of pre-term delivery [14, 15].
The presence of anti-Sjögren's-syndrome-related antigen A (anti-SSA)/Ro and anti-SSB/La antibodies during pregnancy is associated with an increased risk of neonatal lupus, a condition that arises due to transplacental autoantibody transport [16]. Autoantibodies of several specificities have been associated with recurrent abortion in SLE patients [17]. More particularly, the presence of anti-phospholipid antibodies is linked with recurrent pregnancy loss, fetal loss, and stillbirth in women with SLE [18, 19].
Hormones and SLE
Steroid hormones can have strong immune-modulatory effects, a fact that may explain, to an extent, the female preponderance of lupus. The effects of 17β-estradiol, testosterone, progesterone, dehydroepiandrosterone/dehydroepiandrosterone sulfate on disease incidence and severity have been described [20, 21]. Steroid hormones can potentially modulate the T-helper 1 (Th1)/Th2 cytokine balance. For example, progesterone causes Th2 polarization [22], and Th2-related cytokines [particularly interleukin-10 (IL-10) and IL-6] play major roles in the progression of lupus; levels of these cytokines are reportedly higher in SLE patients than in healthy individuals, and levels of IL-10 correlate with anti-dsDNA antibody titers [23].
Pregnancy presents a potentially high-risk condition for lupus, and pregnancy-associated disease flares have been reported [21, 24]. These observations are in line with data suggesting that pregnancy (at least notionally) is believed to constitute a Th1-to-Th2 immune skew and that autoantibodies constitute prime drivers of pathology in SLE. In normal pregnancies, levels of estrogens and progesterone progressively increase from the first trimester of pregnancy, reaching peak levels in the third trimester. Estrogens, at "physiological" levels, potentiate both Th1 and Th2 responses, whereas, at "supra-physiological" levels (such as those achieved in the third trimester), they suppress Th1 responses while promoting Th2 responses; such a milieu would favor the production of immunoglobulins. That said, while some studies describe heightened disease activity in the second trimester, there appears some discordance with levels of estrogens and progesterone [21].
Lupus-prone mice have been extensively employed to elucidate the roles hormones play in disease onset and progression, as well as the genes they might influence. For example, microarray analysis in intact male and female New Zealand black (NZB) × New Zealand white (NZW) F1 mice, as well as in gonadectomized mice with/without steroid supplementation, has revealed that estrogens and androgens can influence genes in a differential manner in the two sexes [25].
A role for pituitary hormones has also been envisaged. While most studies appear to suggest heightened luteinizing hormone (LH) and follicle-stimulating hormone (FSH) levels in male SLE patients, and LH levels in female patients [26], the relevance of these observations remains unclear. Evidence of the possible influence of gonadotropins on disease activity has been obtained in lupus-prone Swiss inbred (SWR) × NZB F1 mice; the administration of gonadotropin-releasing hormone (GnRH) antagonists to ovariectomized female mice enhances survival, while GnRH agonists drive autoreactive responses [27]. As described in more detail below, an abundance of data suggest a role for prolactin in autoimmune diseases in general, and in lupus in particular [28].
Conclusions
The fact that several reproductive hormones significantly affect the clinical manifestation of SLE is now abundantly clear; sex and age both influence hormone-driven outcomes. That said, considerable challenges remain. While disease models either out of convenience or necessity frequently tend to be reductionist in nature, studying the influence of individual hormones in isolation and designing investigations that permit the appreciation of consecutive or concurrent hormonal cross-influences represents the next frontier. No doubt, enhanced understanding will lead to therapeutics with higher efficacy and diminished toxicity.
Abbreviations
| | |
| --- | --- |
| dsDNA: | double-stranded DNA |
| ERs: | estrogen receptors |
| GnRH: | gonadotropin-releasing hormone |
| hCG: | human chorionic gonadotropin |
| IgG: | immunoglobulin G |
| IL-10: | interleukin-10 |
| mRNA: | messenger RNA |
| NZB: | New Zealand black |
| NZW: | New Zealand white |
| OHSS: | ovarian hyperstimulation syndrome |
| PBMCs: | peripheral blood mononuclear cells |
| SLE: | systemic lupus erythematosus |
| Sm: | Smith |
| Th1: | T-helper 1 |
| TLR: | toll-like receptor |
| TWEAK: | tumor necrosis factor-like weak inducer of apoptosis |
References