Abstract
Phosphoinositides are membrane phospholipids involved in a variety of cellular processes like growth, development, metabolism, and transport. This review focuses on the maintenance of cellular homeostasis of phosphatidylinositol 4,5-bisphosphate (PIP2), and phosphatidylinositol 3,4,5-trisphosphate (PIP3). The critical balance of these PIPs is crucial for regulation of neuronal form and function. The activity of PIP2 and PIP3 can be regulated through kinases, phosphatases, phospholipases and cholesterol microdomains. PIP2 and PIP3 carry out their functions either indirectly through their effectors activating integral signaling pathways, or through direct regulation of membrane channels, transporters, and cytoskeletal proteins. Any perturbations to the balance between PIP2 and PIP3 signaling result in neurodevelopmental and neurodegenerative disorders. This review will discuss the upstream modulators and downstream effectors of the PIP2 and PIP3 signaling, in the context of neuronal health and disease.
Keywords
Phosphoinositides, cholesterol, autism, Alzheimer's, ion channels, cytoskeleton, AKT, mammalian target of rapamycin
Introduction
Phosphoinositides are membrane phospholipids involved in regulation of key cellular processes that range from cell growth, protein metabolism, membrane remodeling, and trafficking, to cell death [1–5]. Traditionally, phosphoinositides have been characterized as precursors to secondary messengers for cellular pathways [6, 7], however, evidence for direct roles for these phospholipids in membrane dynamics is also piling up [8]. Chemically, the seven distinct species of phosphoinositides are derived from unique phosphorylations of myo-inositol head group of the phosphatidylinositol (PI) at position 3,4 and 5 hydroxyl residues, either singly or in combination [9]. This addition and removal of phosphate groups is selectively regulated by specific phosphoinositide kinases and phosphatases, which are evolutionarily well-conserved [2].
PI 4,5-bisphosphate [PI(4,5)P2, hereon referred to as PIP2], and PI 3,4,5-trisphosphate [PI(3,4, 5)P3, hereon referred to as PIP3] are the focus of this review. PIP2 and PIP3 are constituents of plasma membrane and their precisely regulated abundance changes in response to cell intrinsic and/or extrinsic stimuli. The PIP2 is primarily formed as a result of sequential phosphorylations at position 4 and position 5 hydroxyl residues of PI by PI 4-kinase (PI4K), and PI phosphate kinase (PIPK), respectively. PIP3 is generated from PIP2 by addition of a phosphate on position 3 hydroxyl residue by Class I phosphoinositide 3-kinase (PI3K). Conversely, dephosphorylation of PIP3 into PIP2 by phosphatase and tensin homolog deleted on chromosome 10 (PTEN) phosphatase also contributes towards maintenance of a PIP2/PIP3 homeostasis in the cells (Figure 1). In the nervous system, both PIP2 and PIP3 play essential roles in regulating neuronal morphogenesis, electrical activity, ion channels and neurotransmitters mediated signal transduction, synaptic plasticity, and cytoskeletal remodeling [10–13]. Perturbations to the delicate balance between PIP2 and PIP3 levels result in aberrant neurodevelopment and neurodegenerative diseases, like autism spectrum disorders (ASD) and Alzheimer's disease (AD), among others [14, 15]. This review discusses the upstream modulators that maintain this PIP2/PIP3 balance, and downstream mediators that are influenced by it, in the context of neuronal regulation and disease.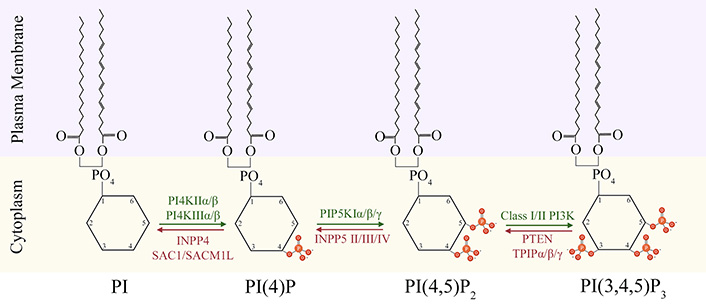 Biosynthesis of PIP2 and PIP3 at plasma membrane-cytoplasm interface. The equilibrium between synthesis of PIP2 and PIP3 at membrane-cytoplasm interface is maintained through addition of phosphate groups (orange) by kinases (green), and its removal by phosphatases (red) at position 3,4, or 5 of the cytoplasmic inositol head group of phosphoinositides (PI). INPP4: inositol polyphosphate 4-phosphatase; SACM1L: SAC1 like phosphatidylinositide phosphatase; INPP5: inositol polyphosphate 5-phosphatase; TPIP: transmembrane phosphatase with tensin homology (TPTE) and PTEN homologous inositol lipid phosphatase
Modulators of PIP2/PIP3 balance
PIP2 and PIP3 are primarily distributed at the cytoplasmic leaflet of plasma membrane and their localized abundance plays diverse roles in regulation of varied cellular processes. A cell needs to maintain a critical balance of these PIs for its normal function. PIP2 and PIP3 are essential for ligand-associated receptor tyrosine kinase (RTK) and G-protein coupled receptor (GPCR) mediated signaling [16], and their cellular levels and activity can be modulated by PI kinases and PI phosphatases [17], which are described below:
Effectors of PIP2 and PIP3 signaling
Classically, PIP2 and PIP3 were primarily thought of as precursors to secondary messengers that mediate activity of integral cellular signaling pathways through interaction with cytoplasmic proteins. However, PIP2 and PIP3 also play direct roles in mediating the activities of membrane-bound ion channels and transporters. These direct and indirect roles of PIP2 and PIP3 signaling in mediating cellular development and function are described below:
Disease relevance
The intricate balance between the levels of PIP2 and PIP3 is necessary for proper regulation and maintenance of several critical cellular processes in the nervous system. Any perturbation to this balance, be it through kinases or phosphatases, may lead to deficits in brain development and neuronal regulation, manifesting itself in disease and disorders of the nervous system.
Disorders of neurodevelopment
Mutations in genes encoding for proteins involved in PI synthesis and metabolism have been associated with ASD. Of the kinases involved in PIP2 and PIP3 synthesis, mutations in catalytic and regulatory isoforms of PI3K have been observed to be overrepresented when it comes to disorders affecting brain development [15]. In the context of dysregulation of catalytic subunits of PI3K, mutations in PIK3CA gene have been observed in clinical cases of cortical dysplasia and megalencephaly [182]. Another study described missense mutations in gene coding for p110α in a patient with autism and macrocephaly [183]. There is also strong evidence for overexpression of p110β catalytic subunit in some cases of autism [184]. This overexpression has been shown to be caused by chromosomal duplication.
More studies have linked a loss of Fragile X mental retardation protein (FMRP) in Fragile X syndrome (FXS) to p110β overexpression [185]. Since p110β mRNA binds to FMRP, this loss of FMRP is associated with increase in p110β expression. This increase has been observed in mouse models [185], as well as human patients cell lines [186, 187]. Dysregulation of another p110δ subunit of PI3K has also been observed in autism and schizophrenia [188, 189]. The location for gene coding for p110γ has been identified as a potential autism susceptible locus [190]. As for the PI3K regulatory subunits, mutations in p85β have been described to be associated with autism and megalencephaly [191]. So far, members of other classes of PI3K (class II and III) that are involved in generation of PIs other than PIP2 and PIP3 have not been shown to be strongly associated with the incidence of autism, further highlighting the importance of maintaining PIP2 an PIP3 balance for neuronal health.
In addition to PI3K, PI4K and PIPKs have also been shown to be altered in autism and other related disorders. Deleterious mutations in a regulator of PI4K have been identified in patients with autism [192]. PIPK isoform 3 has been found to be duplicated in patients with developmental delay and autism [193]. Among the phosphatases regulating PIP2 and PIP3 balance, PTEN stands out for its role in developmental delay, autism, and epilepsy [194–196]. In multiple animal model studies, PTEN loss has been shown to cause autism-like phenotypes and behavior [197–199]. PTEN loss associated phenotypes include anxiety, seizures, macrocephaly, and deficitsin neuronal migration, growth, electrical activity, and social behavior [197, 199–201].
Trisomy of the locus containing SYNJ1 phosphatase has been shown to result in enlarged endosomes in cell lines developed from patients with Down's syndrome (DS) [202]. Other PI phosphatases have not been linked with autism but have been associated with neurodegeneration.
Disorders of neurodegeneration
The PIP2/PIP3 balance in the intracellular environment is reported to be perturbed in neurodegenerative disorders like Alzheimer's and Parkinson's [203]. SYNJ1, a PI phosphatase regulating synaptic activity, was observed to be increased in autopsy of adult brains of DS and early-onset AD patients [204]. The excess of SYNJ1 was also found to contribute to memory deficits in mouse models of AD. Reducing this excess experimentally was found to accelerate clearance of Amyloid β (Aβ) and associated cognitive decline. In another study, restoring PIP2 levels was sufficient to ameliorate such synaptic dysfunction [205, 206]. Presence of tau protein has also been detected in patients with SYNJ1 mutations [207]. Missense mutation in sac1 domain of SYNJ1 has also been found in patients with early onset PD [208]. These patients experienced tremors and some cortical atrophy as well. Loss-of-function mutations in SYNJ1 have been observed in patients with infantile epileptic encephalopathy [209, 210].
Single nucleotide polymorphism (SNP) in INPP5B phosphatase have been shown to be associated with sporadic amyotrophic lateral sclerosis (ALS) [211]. Loss of function mutations in chorein or vacuolar protein sorting-associated protein 13A (VPS13A) have been found in patients with a rare hereditary genetic disorder called chorea-acanthocytosis (ChAc) [212]. ChAc is characterized by progressive movement disorder, seizures, cognitive difficulties, and neurodegeneration-particularly in striatum [213–215]. The mechanism behind disease pathology has remained puzzling for a while. However, recent studies in neuronal cell cultures and animal models have hinted at a role for PI signaling in the development of ChAc. Chorein is reported to be involved in activation of p85 regulatory subunit of PI3K, with subsequent activation of several downstream kinases [215, 216]. Compromised cytoskeleton and cell-survival was observed in patient-derived neuronal cell cultures containing mutations in chorein [217]. Mutations in genes encoding for IP3R, for example inositol 1,4,5-trisphosphate receptor type 1 (ITPR1), have been reported in infantile-onset nonprogressive spinocerebellar ataxia (SCA) [218]. SCA are degenerative disorders related to movement control. The dysfunction of IP3R leads to aberrant calcium signaling in cerebellar neurons which are implicated in SCA pathogenesis [219]. Mutations in FAM126A gene leading to loss of hyccin/FAM126A protein, a scaffolding partner of PIKIIIα, causes disorders of progressive hypomyelination in central and peripheral nervous system [30]. This hypomyelination manifests in form of leukoencephalopathy known as hypomyelination and congenital cataract (HCC), with symptoms of cognitive deficits and neuropathy [220].
Conclusion
Phosphoinositide signaling, especially the levels of PIP2 and PIP3, is critically regulated for maintenance of general neuronal health by varied kinases and phosphatases. The downstream functions for PIP2 and PIP3 are quite diverse, and include roles in neuronal growth, development, connectivity, and activity. Perturbations to the regulators of this balance in PIP2 and PIP3 have been associated with myriad of neurological disorders and diseases. Research in this domain continues and new associations are being discovered regularly. However, the need for effective therapeutic strategies remains.
Abbreviations
| | |
| --- | --- |
| 5-Ptase: | inositol 5-phosphatase |
| ACBD3: | acyl-CoA-binding protein 3 |
| AD: | Alzheimer's disease |
| ASD: | autism spectrum disorder |
| CaV: | voltage-gated calcium channels |
| ChAc: | chorea-acanthocytosis |
| cPKC: | conventional protein kinase C |
| DAG: | diacylglycerol |
| ER: | endoplasmic reticulum |
| FMRP: | Fragile X mental retardation protein |
| FOXO: | Forkhead BOX O |
| GPCR: | G-protein coupled receptor |
| GSK3: | glycogen synthase kinase 3 |
| INPP5: | inositol polyphosphate 5-phosphatase |
| IP3: | inositol-1,4,5-triphosphate |
| IP3R: | inositol-1,4,5-triphosphate receptor |
| Kir: | inwardly rectifying potassium channels |
| mTORC1: | mammalian target of rapamycin complex 1 |
| mTORC2: | mammalian target of rapamycin complex 2 |
| ORCL: | oculocerebrorenal syndrome of Lowe |
| PA: | phosphatidic acid |
| PD: | Parkinson's disease |
| PDK: | phosphoinositide-dependent protein kinase |
| PH: | pleckstrin homology |
| PI: | phosphoinositides |
| PI3K: | phosphoinositide 3-kinase |
| PI4K: | phosphatidylinositol-4 kinases |
| PI5 phosphatases: | phosphoinositide 5-phosphatases |
| PI5P: | phosphatidylinositol 5-phosphate |
| PIP2: | phosphatidylinositol 4,5-bisphosphate |
| PIP3: | phosphatidylinositol 3,4,5-trisphosphate |
| PIPK: | phosphatidylinositol phosphate kinase |
| PIPKIIs: | type II phosphatidylinositol phosphate kinases |
| PIPKIs: | type I phosphatidylinositol phosphate kinases |
| PKC: | protein kinase C |
| PLC: | phospholipase C |
| PR: | proline-rich |
| PTEN: | phosphatase and tensin homolog deleted on chromosome 10 |
| Rictor: | rapamycin-insensitive companion of mTOR |
| RTK: | receptor tyrosine kinase |
| SCA: | spinocerebellar ataxia |
| SH2: | Src homology 2 |
| SHIP: | Src homology 2 containing inositol phosphatase |
| SKIP: | skeletal muscle- and kidney-enriched inositol polyphosphate phosphatase |
| SYNJ: | synaptojanin |
| TM: | transmembrane spanning region |
| TPIP: | transmembrane phosphatase with tensin homology and phosphatase and tensin homolog deleted on chromosome 10 homologous inositol lipid phosphatase |
| TPTE: | transmembrane phosphatase with tensin homology |
| TRP: | transient receptor potential |
| VSP: | voltage-sensing phosphatases |
References