Abstract
Histone deacetylases (HDACs) are a class of zinc (Zn)-dependent metalloenzymes that are responsible for epigenetic modifications. HDACs are largely associated with histone proteins that regulate gene expression at the DNA level. This tight regulation is controlled by acetylation [via histone acetyl transferases (HATs)] and deacetylation (via HDACs) of histone and non-histone proteins that alter the coiling state of DNA, thus impacting gene expression as a downstream effect. For the last two decades, HDACs have been studied extensively and indicated in a range of diseases where HDAC dysregulation has been strongly correlated with disease emergence and progression—most prominently, cancer, neurodegenerative diseases, HIV, and inflammatory diseases. The involvement of HDACs as regulators in these biochemical pathways established them as an attractive therapeutic target. This review summarizes the drug development efforts exerted to create HDAC inhibitors (HDACis), specifically class I HDACs, with a focus on the medicinal chemistry, structural design, and pharmacology aspects of these inhibitors.
Keywords
Histone deacetylases, zinc-binding group, cap group, epigenetic regulation, small-molecule inhibitors, medicinal chemistry
Introduction
Histone deacetylases (HDACs) are enzymes that belong to a class of hydrolases that catalyze the removal of acetyl groups from lysine (Lys) residues on histones and non-histone substrates (Figure 1). Lys acetylation is frequently dysregulated in several indications such as autoimmune diseases or cancers, due to post-translational modification of acetylation changing protein stability/activity status. Acetylation functions as a mode for epigenetic regulation, best known for histone acetylation as a paradigm for tailored gene transcription machinery outcomes. Collectively, both histone acetyl transferases (HATs) and HDACs, play an important role in precisely tuning the balance of transcriptional activation and repression of the human genome. Broadly, HATs are recruited by transcription factors and co-activators while HDACs are recruited by transcriptional repressors and co-repressors, highlighting the relevance of HDAC therapeutic targets in multiple disease indications, such as a wide spectrum of carcinomas or acute leukemia, lymphoma, or sarcomas where tumor suppressor gene (TSG) expression is often silenced, repressed or mutated to loss of function due to missense or stop codon mutations for example [1].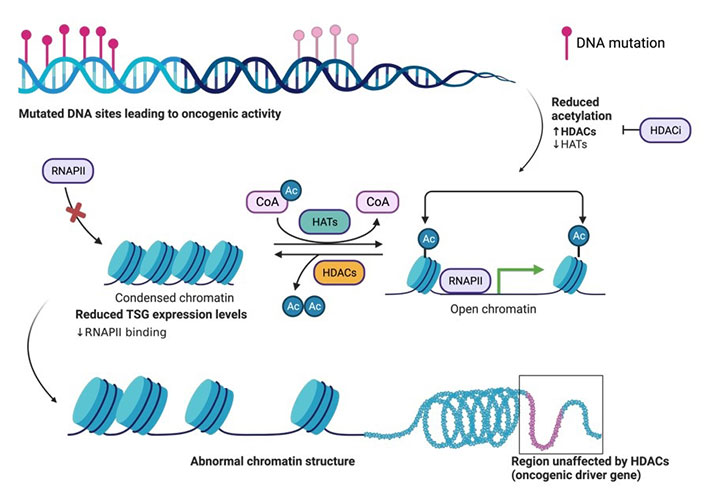 The basic principle of acetylation status for open (euchromatin) or closed chromatin (heterochromatin). Structural organization of DNA wrapped around histone proteins, and the effects on expression of proteins such as TSG transcription due to the downregulation of HATs and upregulation of HDACs during oncogenic activity in the cell. Acetylation of histones on surface exposed Lys residues by HAT. Histone acetylation yields an amide that is neutral at physiological pH and thus weakly interacts with the negatively charged DNA, thus allowing the cellular transcription machinery to access TSGs for transcription. Deacetylation of histones by HDAC. Histone deacetylation yields a primary amine that is positively charged at physiological pH and thus strongly interacts with the negatively charged DNA, thus preventing the cellular transcription machinery (ie. RNAPII) from accessing TSGs for transcription. HDACi aid in the inhibition of HDAC activity. The figure was created with Biorender.com. RNAPII: RNA polymerase II; CoA: coenzyme A; Ac: acetyl; HDACi: HDAC inhibitor
HDACs are stratified into 4 classes—I, IIA, IIB, and IV (Table 1). These HDACs are zinc (Zn)-dependent due to the presence of a Zn2+ ion at the base of their catalytic pocket. Class I HDACs are comprised of HDACs 1, 2, 3, and 8, with the remaining classes indicated in Table 1. There also exists an independent class of HDACs (class III) which is known as sirtuins, which are nicotinamide adenine dinucleotide (NAD+)-dependent. These enzymes are also present in the mitochondria due to their involvement in an array of metabolic pathways. The grouping of HDACs into their respective classes is based on their homology to yeast transcriptional regulators [2]. However, the individual HDAC numbering refers to their date of discovery.
Class
HDAC
Localization
Representative PDB code
Numbers of amino acids
I
1
Nuclear
4BKX
483
2
Nuclear
3MAX
488
3
Nuclear/cytoplasmic
4A69
428
8
Nuclear
5VI6
377
IIA
4
Nuclear/cytoplasmic
5ZOO
1,084
5
Nuclear/cytoplasmic
-
1,122
7
Nuclear/cytoplasmic
3C0Y
912
9
Nuclear/cytoplasmic
1TQE
1,069
IIB
6
Cytoplasmic
3PHD
1,215
10
Cytoplasmic
6WDY
669
IV
11
Nuclear
-
347
Display full size
-: not applicable; PDB: Protein Data Bank
Class I HDACs are attractive therapeutic targets due to their involvement in multiple pathways that promote oncogenesis, diabetes, cardiac disorders, neurodegenerative diseases, etc. [4]. This chapter highlights recent advances in the HDAC-targeting drug candidates, with an emphasis on class I HDACs from a medicinal chemistry lens. Historically, selective HDAC inhibition has been challenging, and optimization through medicinal chemistry approaches has shown an improved outlook on the future of HDACi design.
HDACi engage the catalytic pocket to sterically block the catalytic activity
Architecture of HDAC catalytic tunnel
The HDAC catalytic tunnel represents a slim groove that can accommodate acetyl-Lys to undergo deacetylation [5]. The residues around the catalytic tunnel tend to be highly conserved among the class I HDACs, particularly HDACs 1–3 (Figure 2A–E). However, HDAC2 has a deeper catalytic tunnel that extends further into the protein when compared to HDACs 1 and 3. On the other hand, HDAC3 and HDAC8 have smaller catalytic tunnels without additional room in the lower periphery (Figure 2F). One of the major challenges, however, in targeting HDACs 1–3 is due to their existence in multimeric states and they are often complex with other co-factors that perform different functions [6]. HDAC8 is unique within the HDAC family, and while it is structurally the most similar to other class I HDAC catalytic domains it operates in a monomeric fashion [7]. Hence, HDAC3 shares the most similarity between HDAC1 and HDAC8, while HDAC1 shares the most similarity between HDAC2 and HDAC3, and HDAC2 and HDAC8 are the most distant structurally (Figure 2D and 2E).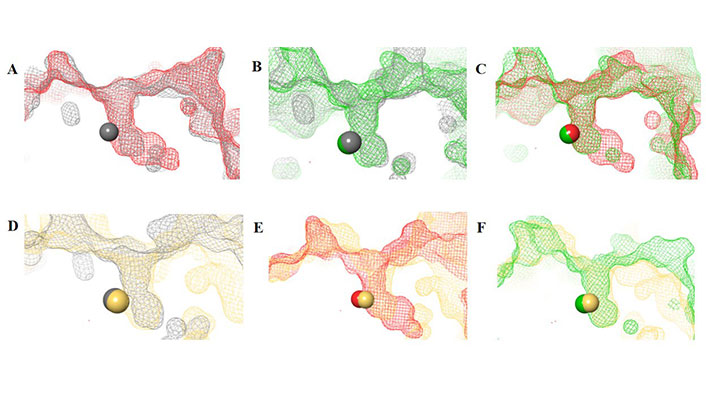 HDAC catalytic tunnel architecture. (A) Catalytic tunnels of HDAC1 (grey) and HDAC2 (red) superimposed; (B) catalytic tunnels of HDAC1 (grey) and HDAC3 (green) superimposed; (C) catalytic tunnels of HDAC2 (red) and HDAC3 (green) superimposed; (D) catalytic tunnels of HDAC1 (grey) and HDAC8 (gold) superimposed; (E) catalytic tunnels of HDAC2 (red) and HDAC8 (gold) superimposed; (F) catalytic tunnels of HDAC3 (red) and HDAC8 (gold) superimposed. Zn atoms are represented as spheres with the corresponding protein mesh surface colors. All images were generated via Maestro according to the PDB codes as detailed in Table 1
HDACi pharmacophore
The vast majority of HDACi developed to date have exploited the Zn2+ center in the catalytic tunnel of HDACs by employing an electron-rich moiety commonly known as a ZN-binding group (ZBG) [8]. Other differences such as the catalytic tunnel residues and protein surface residues have led to diversity in inhibitor design to leverage selectivity among different HDAC isozymes. Consequently, HDACi has distinct regions, each interacting with a specific part of the HDAC catalytic tunnel. As such, the HDACi pharmacophore consists of 4 main portions (Figure 3)—(A) the ZBG, which coordinates the Zn2+ at the base of the catalytic tunnel; (B) a linker that interacts with the residues on the sides of the catalytic tunnel; (C) a cap group, which interacts with the surface residues around the rim of the catalytic tunnel, and in the case of class I HDACi; and (D) foot-pocket (FP) group, which interacts with the lower periphery of the catalytic tunnel, is seen in many examples of HDAC1 and HDAC2 inhibitors since their tunnels extend deeper into the protein core [8].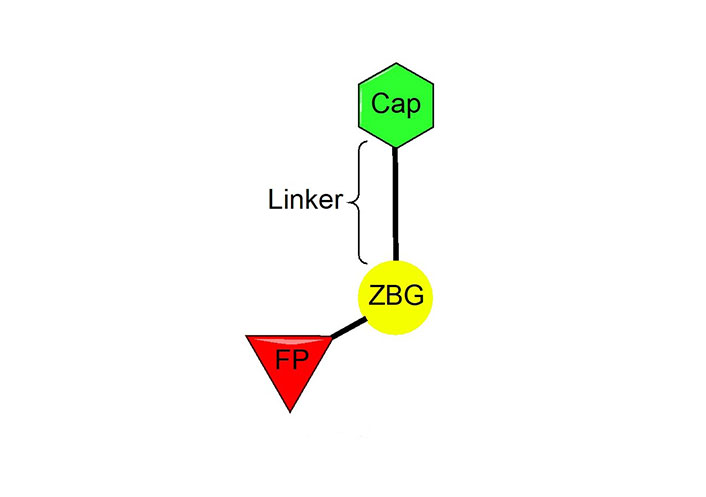 General class I HDACi pharmacophore
HDACi selectivity is traditionally gained from optimizing the cap group due to the conservation of residues around the interior of the catalytic tunnel with increased variation around the surface residues of each HDAC [7].
Structural differences among HDAC family members allow for different ZBG chelation patterns and selectivity
As detailed above, the ZBG enthalpically drives the HDAC target engagement. While most HDACi tend to employ a hydroxamic acid as a ZBG, class I HDACs (particularly HDACs 1–3) tend to be the only class of HDACs inhibited by 2-amino anilides as a ZBG (Figure 4A) [9–13]. This may be attributed to a more spacious compartment at the base of their catalytic tunnels that can accommodate the larger 2-amino anilide group as compared to the smaller hydroxamic acid. In many cases, reports of benzohydrazides have also been employed as ZBGs for targeting class I HDACs [14–16]. Although certain molecules did exhibit substantial selectivity towards class I HDACs, there seem to be no clear patterns that definitively favor the use of benzohydrazides for HDACs 1–3 over other HDACs (e.g., HDAC6 and HDAC8).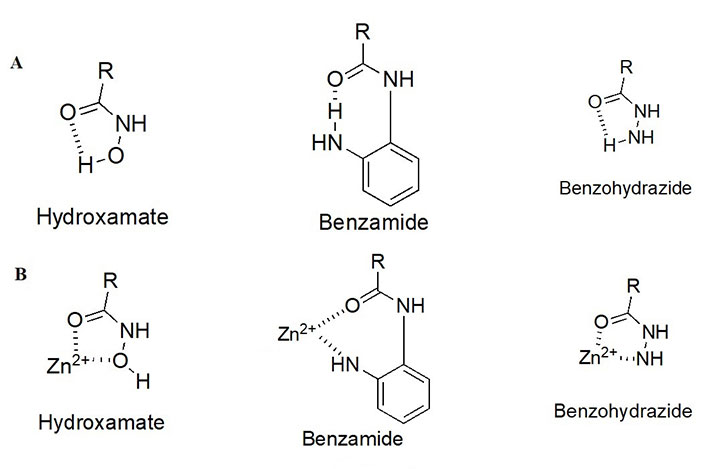 HDACi pharmacophore and chemotypes with juxtaposition to the critical Zn2+ ion. (A) Different chemotypes of ZBGs used to target class I HDACs with intramolecular hydrogen bonding patterns; (B) ZBGs coordinating to Zn2+
While intramolecular hydrogen bonding is possible within a hydroxamic acid, a stronger, more geometrically favorable intramolecular hydrogen bond can occur within the 2-amino anilide moiety (Figure 4B) [17]. However, because of the intra- to inter-molecular conversion, 2-amino anilides have been reported to exhibit slow-binding kinetics with HDACs 1–3. For example, a selective HDAC3 inhibitor, RGFP966, has been shown to exhibit a time-dependent reduction in half maximal inhibitory concentration (IC50) with longer pre-incubation times [18]. This time-dependent inhibition could be attributed to the two-step mechanism of the 2-aminoanilide binding to HDACs 1–3. Initially, the inhibitor orients in a fashion that is structurally complementary to the catalytic tunnel. Subsequently, the intramolecular hydrogen bond within the 2-amino anilide breaks to coordinate with the Zn (II) [17]. While slow, the interaction between the 2-amino anilide forms a much tighter interaction with the HDAC proteins in comparison to the fast binding of hydroxamates which is often coupled to a faster elimination and poorer drug pharmacokinetic (PK) profile. Hence, 2-amino anilides tend to have significantly longer residence times in the protein than hydroxamic acids and this unlocks unique binding profiles of the 2-amino anilide inhibitors [17, 19, 20].
Current class I HDACis in the literature
Here, drugs target class I HDACs, clinical candidates, as well as a selection of upcoming inhibitors with potency and selectivity towards HDACs 1–3, or other HDACs.
Conclusions
HDACi has been studied extensively over the last 30 years and has come a long way since its inception. Despite the difficulty in attaining HDAC gene family member selectivity, recent efforts in the last ~15 years have been promising in achieving class selectivity among HDACs. Molecules discussed in this chapter are summarized below in Table 5 in terms of IC50 values against all 11 HDAC proteins. With regards to class I HDACi, the challenge remains to delineate HDAC1 and HDAC2 selectivity, whereas HDAC3 and HDAC8 seem to be somewhat distinguishable from the rest, albeit to a limited extent in the case of HDAC3. The general direction of class I HDACi seems to be accelerating in pursuit of optimizing 2-amino anilides since they offer the most class selectivity despite the reduced potencies. On the other hand, while hydroxamates offer exquisite potencies, they often lack HDAC family member selectivity and exhibit poor PKs which limits the range of their utility. Much like hydroxamates, ZBGs like benzohydrazides show promising potencies but these combinations in small molecules likely suffer from poor PK. The chemical space for novel ZBGs is expanding and shows promising results in the direction of specific HDAC protein member selectivity, which can open new therapeutic avenues to limit negative side effects or unwanted toxicity and to target specific HDAC disease-driving family members in cancer, autoimmunity, or chronic inflammatory diseases.
Summary of all HDAC IC50 values
Molecule name
HDAC protein members IC50 (mol/L)
1
2
3
4
5
6
7
8
9
10
11
Vorinostat
0.06
0.042
0.036
0.02
0.036
0.029
0.129
0.173
0.049
0.060
0.031
Tucidinostat
0.1
0.2
0.1
> 10
> 10
> 10
> 10
0.7
> 10
0.1
0.4
Romidepsin
0.001
0.001
0.001
647
> 1
226
> 1
> 1
> 1
0.001
0.0003
Panobinostat
0.003
0.002
0.002
0.001
0.001
0.001
0.002
0.022
0.001
0.031
0.004
Belinostat
0.026
0.022
0.019
0.015
0.025
0.010
0.051
0.022
0.024
0.059
0.027
Trichostatin A
0.00068
0.0027
0.0004
> 1
0.776
0.00095
0.482
0.207
> 1
0.0016
> 1
Quisinostat
0.00062
0.002
0.00048
0.0046
0.006
0.0399
0.004
0.0024
0.0067
0.002
> 1
Pracinostat*
0.028
0.027
0.019
0.016
0.021
0.247
0.107
0.048
0.024
0.023
0.043
Abexinostat*
0.007
0.019
0.0082
-
-
0.017
-
0.028
-
0.024
-
Fimepinostat
0.0017
0.005
0.0018
0.409
0.647
0.027
0.426
0.191
0.554
0.0028
0.0054
HDAC-IN-30
0.0134
0.028
0.0092
-
-
0.0427
-
0.131
-
-
-
MMH409
-
-
-
-
-
-
-
0.0234
-
-
-
PCI-34051
4
> 50
> 50
> 50
-
-
2.9
0.010
-
13
-
Chidamide
0.095
0.160
0.067
> 10
> 10
> 10
> 10
0.733
> 10
0.078
0.432
Tacdeinaline
0.900
0.900
1.2
-
-
-
-
> 20
-
-
-
Entinostat
0.243
0.453
0.248
> 10
> 10
> 10
> 10
> 10
> 10
> 10
-
BRD-6929
0.001
0.008
0.458
> 10
> 10
> 10
> 10
> 10
> 10
3.4
-
Mocetinostat
0.150
0.290
1.6
> 10
> 10
> 10
> 10
> 10
-
-
0.590
ACY-957
0.007
0.018
1.3
NI
NI
NI
NI
NI
NI
-
-
Compound 1
0.006
0.190
27.7
> 50
-
> 50
-
31.7
-
-
-
BRD-4884
0.029
0.062
1.09
-
-
-
-
-
-
-
-
BRD-3349
0.011
0.049
2.78
-
-
-
-
-
-
-
-
RGFP109
0.300
1.28
0.063
> 180
> 180
>180
> 180
10.7
-
-
-
RGFP136
5.2
3
0.400
> 180
> 180
> 180
> 180
13.2
-
-
-
RGFP966
5.6
9.7
0.210
-
-
-
-
>100
-
-
-
BRD-3308
1.26
1.34
0.054
> 33
> 33
> 33
> 33
> 33
> 33
-
-
BG45
2
2.2
0.289
-
-
> 20
-
-
-
-
-
T326
> 100
-
0.260
>100
-
> 100
-
>100
-
-
-
Compound 2
> 30
>30
0.120
-
-
> 30
-
> 30
-
-
-
Compound 3
0.080
0.110
0.006
> 100
> 100
> 100
> 100
0.0252
> 100
> 2
> 4
UF010
0.500
0.100
0.060
> 100
> 100
9.1
> 100
1.5
> 100
15.3
44.5
SR-4370
0.130
0.580
0.006
-
-
2.3
-
3.7
-
-
-
Compound 4
0.0118
0.0955
0.00095
-
-
-
-
-
-
-
-
Compound 5
0.0633
0.287
0.0085
-
-
> 100
-
-
-
-
-
Compound 6
0.00954
0.028
0.00141
-
-
> 100
-
-
-
-
-
Compound 7
0.00469
0.046
0.00028
> 10
> 10
> 50
> 10
> 1.75
> 10
-
-
Largazole*
0.020
0.021
0.048
-
-
> 1
-
-
-
-
-
Largazole thiol*
0.00007
0.00007
0.000017
-
-
0.025
-
-
-
-
-
Psammaplin A*
0.045
-
-
-
-
2.8
-
-
-
-
-
Psammaplin A thiol
0.0009
-
-
-
-
0.360
-
-
-
-
-
Compound 8
20
31
0.029
> 40
> 40
> 45
> 40
> 45
> 45
10
2
Compound 9
0.0097
0.029
0.0076
-
-
9
-
> 45
-
-
-
Compound 10
0.040
0.061
0.0093
-
-
> 45
-
> 45
-
-
-
Compound 11
0.013
0.018
0.012
-
-
9
-
> 45
-
-
-
Compound 12
0.0001
0.00047
0.000087
-
-
> 45
-
0.016
-
-
-
Compound 13
-
0.500
-
-
-
-
-
-
-
-
-
Display full size
Abbreviations
| | |
| --- | --- |
| FDA: | Food and Drug Administration |
| FP: | foot-pocket |
| HATs: | histone acetyl transferases |
| HDACis: | histone deacetylase inhibitors |
| HDACs: | histone deacetylases |
| IC50: | half maximal inhibitory concentration |
| Lys: | lysine |
| PDB: | Protein Data Bank |
| Phe: | phenylalanine |
| PK: | pharmacokinetic |
| TSG: | tumor suppressor gene |
| ZBG: | zinc-binding group |
| Zn: | zinc |
References